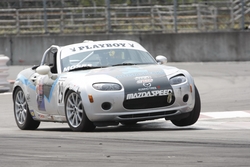 Because you either know one or are one
Portland, Oregon (PRWEB) July 31, 2008
Author Sam Moses, whose memoir "Fast Guys, Rich Guys, and Idiots" was recently named one of the five best books ever written about motorsports by the Wall Street Journal Book Review, scored a victory for nonfiction on Sunday, July 27 in the Mazda Grand Prix of Portland, behind the wheel of his Mazda MX-5 racing car. In the Playboy MX-5 Cup professional race packed with up-and-coming hotshoes, the veteran journalist was matched by Mazdaspeed Motorsports against bestselling novelist Garth Stein, author of ''The Art of Racing in the Rain.'' In the end, it was no contest.
Moses was crashed into the wall at more than 100 mph in practice, but his Team MER crew pounded out the sheetmetal and straightened the wheels in time for the next session. They chased the handling all the way to the start of the race, with the frame still tweaked.
Stein spun on the second lap, and was never in contention. Moses also spun in the Festival Chicane, and when he cut a smoking donut to get back in the race, the grandstands erupted in cheers. "It was the coolest thing in the race," said one 11-year-old fan, named Maks. Moses ran off the track again, chasing 17-year-old Kerstin Smutly, who's been racing for 10 years--watch out Danica Patrick. When he pulled out of his own dust onto the backstraight, a freight-train of the four leaders passed him, and he stayed with them for nearly two laps. "Fun! Fun! Fun!" he radioed to his crew chief, Ronnie Swyers.
Moses, a former Sports Illustrated writer who lives in nearby White Salmon, Wash., benefited from the experience of Team MER out of Fort Worth, Texas, the Playboy MX-5 Cup champions in 2006 and 2007. His MX-5, called "Silver Bullet," is owned by Marc Miller, and was previously raced by the actor and Grey's Anatomy star Patrick Dempsey. It carries "Autism Speaks" on the hood, along with the "Fast Guys, Rich Guys, and Idiots" book jacket, bearing a checkered flag. Stein's MX-5 also carried his book jacket, with the eminently lovable Enzo the dog who narrates the book, only Enzo clearly wants to go the other way down the track.
Moses races again this weekend, in a Mazda RX-7 at Pacific Raceways near Seattle.
The next Playboy Mazda MX-5 Cup race will be at Road America, in Elkhart Lake, Wisconsin on August 9-10. The Portland race will be nationally televised on Direct TV and Dish Network beginning August 18.
Signed copies of "Fast Guys, Rich Guys, and Idiots," as well as T-shirts with the title ("Because you either know one or are one") are available at http://www.sammoses.com.
###