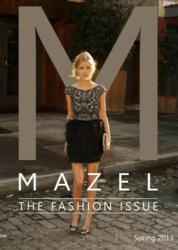 "Bar and bat mitzvahs have become elevated events filled with extremely creative décor, themes and entertainment," said Kaplan.
New York, New York (PRWEB) March 20, 2013
Introducing Mazel, a modern, upscale bar and bat mitzvah digital magazine. Filling a void in the marketplace, MazelMagazine.com is the first media outlet to cover the higher-end of the coming-of-age ceremony. High-end experts such as event guru Colin Cowie and food innovator Peter Callahan share their knowledge with readers. Custom couture dresses, a bat mitzvah held at Giant Stadium, and a leopard-print lounge theme are just some of the featured stories on the site.
Event photographer Jamie Kaplan of Jamie K Photography started Mazel after years of photographing extremely lavish mitzvahs, some with budgets in the half-million-dollar range. Clearly, the modern bat or bar mitzvah has often become an extravagant affair, rivaling or surpassing weddings in the sheer amount of planning and attention involved.
"Bar and bat mitzvahs have become elevated events filled with extremely creative décor, themes and entertainment," said Kaplan. "No where could I find a place that reflected this. With Mazel it's time to acknowledge and share this with Jewish families as inspiration for their own parties."
Mazel aims to be the leading national mitzvah resource and publication, appealing to the chic, modern Jewish mom and her tween or teen daughter/son. The magazine contains a diverse array of fresh content updated regularly, featuring the likes of big names such as:

One of the world's leading event planners, Colin Cowie recalls an architecture-themed mitzvah in which he recreated a blueprint of the family's history in the tablecloths
Contributing editor for Martha Stewart Weddings and inventor of America's iconic miniaturized comfort foods, Peter Callahan talks about innovation with food design at mitzvahs. (Hint: After reading the first paragraph you'll be "hungry" for more.)
Celebrity stylist Stacey Lyn Weinstein of Bravo's "Bethenny Getting Married" offers tips on how to achieve stunning hair and makeup for mitzvah families—yes, guys too
Jewish mom entrepreneur and creator of "Divalysscious Moms" Lyss Stern discusses the need for a customizable theme and think-outside-the-box location
"It's easy to throw a cookie-cutter reception that's lavish and chic," writes Stern. "But the best bar mitzvahs are customized with a theme that really expresses the honoree's interests and tastes."
There are an estimated 5.3 million Jews in America, with mitzvahs traditionally taking place at age 13 for boys and age 12 for girls as a coming-of-age celebration.
For more information, please visit MazelMagazine.com. And you can find Mazel on Facebook and Pinterest.