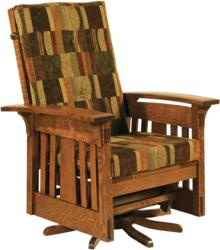 The Mission style is noted for wood slats, corbels, mortise-and-tenon joints and straight angles.
Shipshewana, Indiana (PRWEB) September 19, 2012
The new McCoy Swivel Glider possesses a level of craftsmanship that is a result of expert Amish artisans and is available at Brandenberry Furniture. The classic Mission design on this glider and a variety of custom options will allow clients to direct the final design, look and feel on this comfy chair for their family room furniture.
The McCoy Swivel Glider, like all of Brandnberry's furnishings, is crafted by the Midwest's Amish artisans. For those unfamiliar with the Mission design, Floyd, a Brandenberry sales representative notes, "The Mission style is noted for wood slats, corbels, mortise-and-tenon joints and straight angles." These features are evident in the glider, yet bowed arms and uniquely-carved edges add another depth to this already classic style.
Because this glider is crafted with an extremely hands-on approach (craftsmen select the wood, build the piece, then sand and finish by hand), customers are able to choose from a variety of custom options. This means that the fabric can be selected, the stains and finishes can be chosen, the wood species can be picked from a large selection, and even the swivel seating can be adjusted. For those truly interested in custom furniture, Brandenberry even works with customers to help design totally original pieces.
Browse Brandenberry's selection of Amish style furniture online, including McCoy pieces and living room seats, and be on the lookout for exclusively created, custom Brandenberry Furniture pieces. Also visit their store location in the tiny town of Shipshewana (located in Northern Indiana's Amish country) and discover the beauty of solid wood furniture first-hand.
About Brandenberry Amish Furniture:
LeRoy and Ida Weaver established their first Amish furniture store in 1989 in Shipshewana, Indiana, before opening Brandenberry Furniture in 2008. The Brandenberry Furniture concept allows customers to design the furniture of their dreams…to explore the rich woods and stains that only nature can offer. Nothing matches the feel, the smell and the weight of hickory, oak, cherry, maple…real woods that come to life in an Amish handcrafted piece. They are meant to last a lifetime and beyond.
Whether a customer's favorite style is Mission, Traditional, Modern or something in between, if Brandenberry Furniture doesn't carry it, their craftsmen will built it to specification.
Brandenberry Furniture offers everything from bedroom and dining collections to home accessories, patio and exclusive furniture pieces. Browse our easy-to-use website with detailed photographs and information, and you'll find furniture categorized by room (including family room, dining room, bedroom, office, children's) as well as by wood species (including oak, hickory, cherry, elm, maple, pine and cedar) and style.