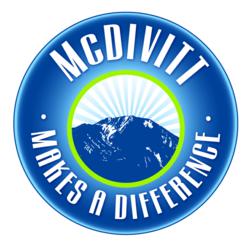 Distracted driving is more than just a hazard. It's an epidemic. When young people are allowed to express themselves about this and other issues, the results can be powerful.
Colorado Springs, CO (PRWEB) May 28, 2012
Entering its fifth year, McDivitt Law Firm's annual public service announcement (PSA) contest kicked off this past spring. The law firm asked area students to create videos about safe driving and how to prevent problems such as distracted driving, lack of seatbelt use, and impaired driving. The law firm is pleased to announce the following students as this year's co-winners for first place: Daniel Carr, a 9th grade homeschool student in Woodland Park, and Michelle Manthei, a 12th grade student at Coronado High School.
"Distracted driving is more than just a hazard. It's an epidemic," attorney Mike McDivitt, founder of McDivitt Law Firm. "When young people are allowed to express themselves about this and other issues, the results can be powerful."
Both students utilized green screen techniques to create impressive special effects to make a point about the dangers of texting while driving. Daniel's PSA features the grim reaper, who does his best to distract a driver, while Michelle's PSA is out of this world and incorporates a futuristic theme—including spaceships.
"I wanted to make something that was creative, but had a 'shock factor' to get the point across," said Daniel, who made his first prize-winning film at the young age of 9. "That point being that distracted driving can and will have deadly consequences. It has felt very gratifying to receive feedback from people who have viewed my PSA from all across the country. I am very grateful for the opportunity to share my vision about the dangers of distracted driving. I hope that my PSA will help save lives!"
Michelle agrees and says she hopes people realize that texting while driving is not acceptable. "Be responsible and do your part to keep the roads safe," said Michelle, who is considering a career in filmmaking and production.
Contest winners were offered the choice of a laptop computer with movie-making software or a $1,500 gift card. Both students chose gift cards as their prizes. Michelle's school will receive a donation, and a donation will be made to Drive Smart Colorado on behalf of Daniel. Both PSAs also will be aired on local television.
"It's an honor to receive this prize," Michelle added. "A shout out to Daniel Carr, too—I loved your video! It made me laugh and want to watch it again. You deserved to win this."
Although Daniel hasn't decided if he's going to focus on a film career, he already has an impressive list of film credits, including: a PSA for the state of Florida on the dangers of rip currents; a short documentary for the History Channel's website about the Space Race, two nationally recognized cooking videos, and an environmental awareness film that received recognition from Yale University, to name a few.
Watch all of this year's entries.
McDivitt Makes A Difference
Whether McDivitt Law Firm is paying for safe cab rides home, sponsoring local education programs, or supporting area charities, the firm genuinely cares about their neighbors. As part of their commitment to helping others, the firm created McDivitt Makes A Difference—a year‐round program that encompasses all the firm's community efforts.
About McDivitt Law Firm
The McDivitt Colorado Personal Injury Law Firm is a highly visible and respected law firm that provides legal advice and representation to personal injury claimants. McDivitt Law Firm was founded by Mike and Karen McDivitt. They have an outstanding team of lawyers, paralegals, and support staff members who provide caring and thorough representation for injured people.