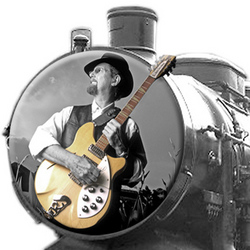 This is the ultimate user-generated video
Orlando, FL (PRWEB) April 18, 2008
In a musical first, Rock and Roll Hall of Famer Roger McGuinn has recorded a unique video from the inside of a private berth on a train headed from Florida to New York. The "Roger Rocks on Rails" video, recorded exclusively for GrowingBolder.com features McGuinn taking viewers on a musical journey through the history of rock and roll.
"This is the ultimate user-generated video," says Growing Bolder Vice President Bill Shafer. "In this case, the user just happens to be one of the most influential artists in musical history." Roger's wife Camilla videotaped the entire presentation on a handheld minicam. "This an intimate as it gets," says Shafer. "With the countryside flashing by and the rails providing a rhythmic soundtrack all their own, it's a musical experience unlike anything out there."
McGuinn was a folk music prodigy who founded The Byrds with Gene Clark and David Crosby in 1965. He pioneered both folk rock and country rock and influenced everyone from The Beatles to Tom Petty to R.E.M. He's released eight albums since The Byrds disbanded in 1973, including 2001's Grammy-nominated "Treasures From the Folk Den," a collection of remote recordings from the dens of Pete Seeger, Joan Baez, Judy Collins, and other folk greats.
In "Roger Rocks on Rails," McGuinn demonstrates how a Bob Dylan poetic folk tune sounded when it was offered to the The Byrds in 1965, and how he "souped it up with a Beatles rhythm." The result was the band's debut single "Mr. Tambourine Man."
"Roger is the history of rock and roll," says Shafer. "He's always been an innovator and is still pushing the envelope. He was one of the very first musicians to embrace the Internet and it's not surprising that he would be responsible for another first; the first-ever video of its kind recorded on a moving train exclusively for a cutting-edge Website.
The Roger McGuinn "Roger Rocks on Rails" video can only be seen through May 16th at http://www.growingbolder.com
About The Growing Bolder Media Group:
The Growing Bolder Media Group creates active-lifestyle content for the 45+ market. The company is headquartered in Orlando, Florida, home to one of the world's largest populations of active-lifestyle Boomers. http://www.growingbolder.com
###