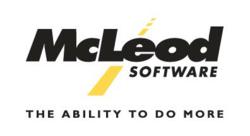 Birmingham, AL (PRWEB) December 12, 2011
McLeod Software is now shipping Version 3.0 of its Smart Phone Mobile Application Suite. This product allows current customers running LoadMaster® Enterprise and Powerbroker™ to use Apple- or Android-based phones and tablets to access their McLeod systems.
This expanded version of the product adds a variety of new features that allow busy professionals to access information, receive critical business alerts, and perform important tasks when they are away from the office and don't have easy access to a conventional computer.
Users can track the progress of shipments, view the status of orders, look up customer or carrier information, find the status of carriers, drivers, tractors, trailers on their current assignments as well as see their next assignment. The McLeod Rapid Alert Notification System (RANS) now runs on these devices. McLeod RANS detects important events defined by the customer, and pushes a message directly to the mobile device with complete details about the situation that triggered the alert, even when the McLeod mobile application on the device is not open.
Customers using McLeod's Symphony™ Mobile Communications system in conjunction with a wide array of in-cab messaging providers can also use the McLeod mobile device applications to read, send, and forward messages to and from their drivers via the driver's in-cab mobile communications system.
All of the data transferred between the mobile device and LoadMaster or PowerBroker is secure and encrypted to protect sensitive information. Each active mobile device is registered with that company's McLeod application server, so the McLeod mobile application on a lost or stolen device can be completely disabled as soon as the lost device is reported.
The new smart phone application is compatible with mobile devices running Android OS v2.1 or later and Apple IOS devices running v3.1.3 or greater.
McLeod Software
McLeod Software is a leading provider of transportation, brokerage and document management systems. Specifically developed for the trucking industry, McLeod's advanced management solutions and services enable transportation companies to increase their efficiencies in all areas while reducing costs. McLeod Software's integrated best-in-class software products include LoadMaster®, PowerBroker™, DocumentPower™ Enterprise, HirePower™ and the McLeod Freight Management Solutions product line. Founded in 1985 and headquartered in Birmingham, Alabama, the company serves truckload and LTL carriers, freight brokers, 3PLs, and shippers throughout North America. For more information, contact McLeod Software toll free at 877-362-5363 or visit http://www.McLeodSoftware.com.
Media Contact:
Caroline Lyle
Director of Business Development
McLeod Software
205-823-5100 tel
205-823-0000 fax
Caroline(dot)Lyle(at)McLeodSoftware(dot)com
###