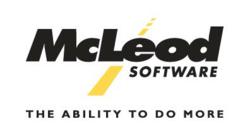 Birmingham, AL (PRWEB) September 20, 2011
McLeod Software, a leading provider of transportation management solutions, announces the release of LoadMaster® Enterprise and PowerBroker™ Version 10.3.
In this latest release of the company's LoadMaster and PowerBroker applications, McLeod has once again extended the functional footprint of both products to bring valuable new capabilities to the table for motor carriers and brokers.
New features in the LoadMaster product make it easier for carriers to proactively manage driver home time, improve trailer utilization, and manage their deliveries in ways that help keep drivers moving. New integration solutions for Breakthrough Fuel, TransCore, PAR LMS, CarrierWeb, and the Multi Service Fuel Card have also been added for LoadMaster.
The latest release of PowerBroker adds tools to help brokers keep closer track of their newest customers and carriers. The PowerBroker Internet Portal has been enhanced to offer more services and information for carriers, helping brokers advance the goal of being easy to do business with.
Both carriers and brokers can now employ a new feature of the McLeod RapidAlert Module to easily configure automatic customer specific email status notifications for their customers or who do not use EDI.
Both the LoadMaster Enterprise and PowerBroker version 10.3 releases will begin shipping immediately.
About McLeod Software
McLeod Software is a leading provider of transportation, brokerage and document management systems. Specifically developed for the trucking industry, McLeod's advanced management solutions and services enable transportation companies to increase their efficiencies in all areas while reducing costs. McLeod Software's integrated best-in-class software products include LoadMaster®, PowerBroker™, DocumentPower™ Enterprise, HirePower™ and the McLeod Freight Management Solutions product line. Founded in 1985 and headquartered in Birmingham, Alabama, the company serves truckload and LTL carriers, freight brokers, 3PLs, and shippers throughout North America. For more information, contact McLeod Software toll free at 877-362-5363 or visit http://www.McLeodSoftware.com.
###