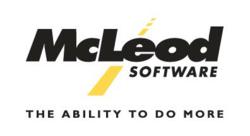 Birmingham, Ala. (PRWEB) August 01, 2012
Truckload carriers, LTL carriers, freight brokers, and shippers alike will travel from all over the United States to meet in Birmingham, Alabama for the education and training opportunity of the year: McLeod Software's 2012 Users' Conference. The event will take place September 16-18 in the Sheraton Birmingham Convention Center.
This conference includes over 50 leading technology companies with transportation industry solutions that will be on-hand to demonstrate their products in the trade show pavilion. This unique gathering of "who's who" in transportation technology will include solutions ranging from software to services to mobile communications devices.
The highlight of this conference will be presentation sessions from over 30 McLeod Software customers, the real industry innovators in trucking, brokerage, and 3PL operations, all sharing their best practices and insights for leveraging software technology to drive efficiency, innovation, competitive advantage, and growth in their businesses.
McLeod is also offering a free Lenovo Android Tablet to the end user transportation company customers in attendance at this event. This device will serve as the conference guide allowing attendees to plan their event, view the video playbacks of each conference session, and communicate with other conference attendees. The device is the customer's or prospective customer's to keep and will serve as their personal repository of all the information they collected during the conference.
Featured speakers for the two-day event include Chairman of Truckload Carriers Association (TCA) and President & CEO of Prime, Inc., Robert Low, Transportation Intermediaries Association (TIA) President & CEO, Robert Voltmann, President of Armstrong & Associates, Evan Armstrong, and President & CEO of Women in Trucking, Ellen Voie.
About McLeod Software
McLeod Software is a leading provider of transportation, brokerage and document management systems. Specifically developed for the trucking industry, McLeod's advanced management solutions and services enable transportation companies to increase their efficiencies in all areas while reducing costs. McLeod Software's integrated best-in-class software products include LoadMaster®, PowerBroker™, DocumentPower™ Enterprise, HirePower™ and the McLeod FMS product line. Founded in 1985 and headquartered in Birmingham, Alabama, the company serves truckload and LTL carriers, freight brokers, 3PLs, and shippers throughout North America. For more information, contact McLeod Software toll free at 877-362-5363 or visit http://www.McLeodSoftware.com.
Media Contact:
Caroline Lyle
Director of Business Development
McLeod Software
205-823-5100 tel
205-823-0000 fax
Caroline.Lyle(at)McLeodSoftware(dot)com