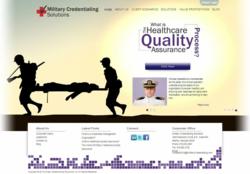 Atlanta, GA (PRWEB) November 27, 2012
Military Credentialing Solutions (MCS) is proud to announce the launch of its new website and blog. The firm's online home is designed to provide resources that will enhance credentialing, privileging, and provider management operations across the industry. Specifically, the site includes strategies for modernizing healthcare quality assurance capabilities, blogs that detail industry best practices, and an account of the value propositions associated with updating legacy credentialing and privileging operations. Additionally, MCS plans to add a community forum to its web presence– enabling real-time dialogue between industry stakeholders and the firm's healthcare quality assurance experts.
When asked about the new website, Director of Operations, Adam Cohen, stated, "Our goal is to be valuable community members. Credentialing and privileging have been around a long time, but the strategies we have proven to be effective are relatively new. We hope that our web presence provides industry stakeholders with valuable information and a forum through which thought leadership, best practices, and common experiences can be exchanged."
In addition to the website, MCS is now on LinkedIn, Facebook, and Twitter. "We hope that our expanded web presence will provide a variety of channels through which an online healthcare quality assurance community may be forged," says CEO Anthony Begando. "Our unique experiences completing this work for military clients and staffing firms results in strategic insights that we hope can support the efforts of other organizations throughout the industry."
The updated website also enhances MCS' client portal experience. "Our clients use the MCS Portal to access their data in ways that provide the information necessary for strategic planning and operations management. This includes the ability to track the status of every provider, review provider rosters, order credentialing episodes, and complete credentials review activities," says Client Services Director Julie Peel.
"Healthcare organizations are beginning to realize that they can improve quality and derive much more value from their credentialing, privileging, and provider management operations if they leverage modern healthcare quality assurance capabilities. We are pleased to be helping define those strategies and providing valuable services to our clients. We hope our new web presence supports their efforts," says Cohen.
# # #
Military Credentialing Solutions (MCS), a pioneer in the healthcare quality assurance industry, provides comprehensive credentialing, privileging, and provider quality management solutions to public and military healthcare organizations and contract clinical staffing firms. An innovator in designing and managing highly efficient operations that tackle the most difficult healthcare quality assurance issues, MCS transforms its clients' operations resulting in improved quality, increased efficiency, and widespread enterprise-level benefits.