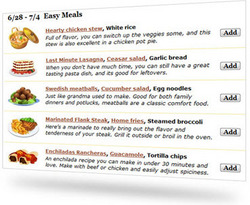 Sunnyvale, CA (PRWEB) July 7, 2010
For a busy mother, meal planning and grocery shopping can be a real hassle. Deciding what to eat can be a stressful balancing act between nutrition, time, and picky eaters, and that's before the real work starts of getting groceries and preparing the meals. To help with the challenges of getting dinner on the table, Say Mmm has launched a new service, Say Mmm Plus, which adds a little magic to creating meal plans and grocery shopping lists.
Complementing a number of free meal planning tools on the Say Mmm website, the new Say Mmm Plus service takes the work out of creating grocery lists. Every week, there is a new set of meal and recipe ideas that can be saved and added to the meal planning calendar. With Say Mmm Plus, the grocery list for these items is also included and already organized. It shows all the items to buy, separates out common pantry items to check, and groups items by area of the store. It's simple to add or remove items, and then just print the grocery list or check off items on a smart phone.
Say Mmm Plus also provides the flexibility for people to edit and create grocery item groups for their own recipes and meals. So, for example, instead of writing out all the ingredients needed for lasagna each time, users can add them once and have them remembered for every time after that. Say Mmm Plus makes grocery shopping easier, and the more it is used the more grocery lists become automated and effortless.
"There are some meal planning services that send people weekly emails and shopping lists, but if you don't have the same eating preferences and habits as the people making the list you end up having to redo a lot of things. With Say Mmm, you can combine suggested meal ideas with your own, add them to your plan based on your schedule, and make the grocery list a snap," said Say Mmm founder, Brian Hutchins.
Say Mmm Plus is free to try for two weeks and then only $3 a month, which is just ten cents a day. The Say Mmm website also has a number of free features, with the most popular ones being the free meal planning calendar, free grocery list maker, and a free recipe organizer.
About Say Mmm
Say Mmm is based in Sunnyvale, CA and was founded by Brian Hutchins, a start up veteran with experience also at Google, Yahoo, and Colgate Palmolive.
# # #