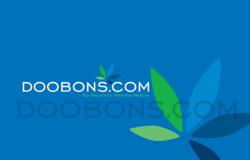 For many of the people I meet, and for many who reach out to me, it's a matter of survival.
San Francisco, CA (PRWEB) June 16, 2012
Most people with serious medical issues often struggle to find reliable, scientific information on cannabis drug treatment therapy. Doobons.com, the online medical marijuana resource based in San Francisco, Calif., is forging a clear path to relevant medical cannabis information in a simple and approachable web portal.
The Patients' Room helps connect patients to the top doctors, institutions and organizations participating in cannabis research through hyperlinks to the latest medical reports, clinical studies, trials and other online documentation. The Patients' Room also features a "Beginner's Guide to Medical Marijuana," geared toward those who are new to cannabis drug treatment or exploring its effectiveness in treating illnesses, disease and various symptoms.
"I started Doobons for only one reason: To help people with serious medical issues find the resources they need to live healthier, happier lives," said John, founder and owner of Doobons. "For many of the people I meet, and for many who reach out to me, it's a matter of survival."
John founded Doobons shortly after his father-in-law was diagnosed with cancer and was given only weeks to live. During that time, he struggled to find reliable, scientific information about cannabis cancer drug therapy on the Internet. What's more, his search also led him to the discovery that most sites were geared to an audience that used marijuana more for recreation than medication.
"Many of the elderly and people who choose not to use marijuana as a euphoric entity are often intimidated," John said, "or uncomfortable with many of the sites that existed before Doobons launched."
Doobons.com is an inclusive site that is equally approachable to persons off all situations, be it a 20-year-old with insomnia; a 70-year-old grandmother with debilitating arthritis; or middle-aged parents seeking treatment for their epileptic 4-year-old who isn't responding to traditional treatments.
"John is an outstanding leader in the medical cannabis community, and a man of great integrity and compassion," said Penelope DeVries, founder of Greenway Medical Marijuana Physicians Evaluations. "His advocacy for patients and his efforts to improve the image of the industry is admirable."
Doobons is hosting a large booth in San Jose, California, this weekend, June 15-17, 2012, at HempCon, one of the nation's top cannabis expos that plays host to seminars and presentations by industry leaders, advocates, and attorneys. The event takes place at the San Jose Convention Center – South Hall, located at 435 S. Market Street.
For more information about Doobons.com, call (415) 524-8099 or visit Doobons.com. The best way to stay informed about developments on Doobons.com is to like [Doobons on Facebook and follow Doobons on Twitter.
About Doobons.com
Doobons.com was designed to help medical marijuana patients find information and important connections to everyone, including those who are new to the world of medical cannabis. While many of today's online medical cannabis directories are designed for patients who already know at least something about using medical cannabis, Doobons.com is designed to be user friendly for patients of all ages and experience levels.
Doobons.com is more than just another online medical marijuana directory. The site's News, Resource, and Blog sections provide valuable information and advice for patients and caregivers. The information posted daily helps new patients learn about the ins and outs of the world of medical cannabis, while it also allows existing patients stay abreast of developments.
The five-star-rated Doobons medical marijuana app is now available for free on the iTunes app store for iPhone 3GS, iPhone 4, iPhone 4S, iPod touch (3rd generation), iPod touch (4th generation) and iPad that runs on iOS 4.3 or later.