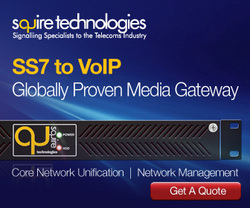 The SVI-Media Gateway, has proven to be the product a Tier1 International Operator can build their future on." Mr. Danh Anh Phuong. CEO One Corp
(PRWeb UK) March 14, 2011
In 2009 VTI deployed Squire Technologies' flagship product 'SVI-MG 8000' to handle their International Traffic; providing scalability, improved call stability, percentage routing and call management, as well as extensive 'all IP' services.
In 2010, with VTI customers receiving seamless, stable and reliable telephone services, demand greatly exceeded expectations. VTI, keen to ensure their customers needs were exceeded, have returned to Squire Technologies to expand by a further 50% to be able to support a total capacity of 16.5 Million BHCA.
"VTI continues to cater to increased demand in National and International calls, especially peaking over Chinese New Year but VTI systems needed to expand even further. The SVI-Media Gateway, with its high availability and ease of scalability has proven to be the product a Tier1 International Operator can build their future on." Mr. Danh Anh Phuong. CEO One Corp
Sanjeev Verma, Regional Sales Director of Squire Technologies added "The Vietnamese government has invested heavily in a 'future proof' telecommunications infrastructure through VTI. This strategy has resulted in enhanced quality and explosive growth in demand. As a UK company we are very proud to be part of this strategic expansion."
"As Squire Technologies continue to establish itself as the flexible technical innovators of the telecommunications industry, the Asian market is quickly taking advantage and deploying these robust solutions. Squire Technologies' commitment to the region has been re-enforced by its development of a network of Channel partners, including 'ONE CORP' who have been a value added partner to Squire Technologies in Vietnam."
Squire Technologies
Squire Technologies provides leading edge NGN and TDM telecommunication products and solutions with world-class installation and support services to deliver carrier grade products worldwide. Supporting high availability, scalability with a fully featured management system, catering for both small interconnect up to large international points of presence.
For further information about how Squire Technologies products can ensure your communications infrastructure is built for the future or to discuss our channel partner programme, click here for a quote.
t +44 1305 757314
e: enquiries (at) squire-technologies (dot) com
w: http://www.squire-technologies.com
###