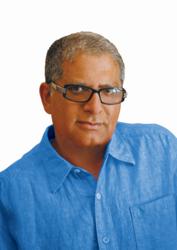 Los Angeles, CA (PRWEB) February 25, 2012
WHAT: The Chopra Foundation's Sages and Scientists: The Merging of a New Future Symposium
WHO: The distinguished speakers list includes some of the top minds in science and spirituality, such as: former Mexican President Vicente Fox; retired General Wesley Clark; Nancy Abrams, J.D.; Renata Black; Rinaldo Brutoco, J.D.; Deepak Chopra, MD. FACP; Gotham Chopra; Mallika Chopra; Richard J. Davidson, Ph.D.; Carlos Dominguez; Kamran Elahian; Elissa Epel, PhD; Stuart Hameroff, MD; J. Ivy; and Menas Kafatos, Ph.D.
Speakers also include Satish Kumar; Fred Kuttner; Laura Liswood; Sumant Mandal; Fred Matser; Kevin McGovern; Leonard Mlodinow; Jeremy Moon; Erin Mote, Ph.D.; Noel Musicha, CEO and President; Candace Pert, Ph.D.; Danielle Posa; Joel Primack, Ph.D.; Dylan Ratigan; VS Ramachandran, M.D., Ph.D.; Bruce Rosenblum, Ph.D.; Rachel Roy; Masami Saionji; Lothar Schafer, Ph.D.; Michael Shermer, Ph.D.; Vandana Shiva, Ph.D.; Daniel Siegel, MD; Henry Stapp, Ph.D.; Rudolph E. Tanzi, Ph.D.; Alexander Tsiaras, Founder and CEO of TheVisualMD.com; and Jordan Wagner.
Guests will also enjoy top quality entertainment from Aloe Blacc, Black Opera, Chloe Flower, Class Actress, Caught a Ghost, Clarita The Arte Flamenco Dance Theatre, Iyadede, Miniotics, Nikki Jean, and TAIKOPROJECT.
WHEN: Saturday March 3 to Monday March 5, 2012
WHERE: La Costa Resort and Spa, 2100 Costa Del Mar Road, Carlsbad, CA
Register online at http://www.choprafoundation.org and use the promo code #54E883 or call (800) 854-5000.
When making a reservation, mention "The Chopra Foundation Sages and Scientists Symposium" to receive the special discounted rate of $169.00 per night. This rate excludes resort fees and taxes, and is based on availability.
WHY: The Sages and Scientists Symposium unites philosophers, philanthropists, humanitarians, leaders of the medical and business worlds, artists, scientists, and story-tellers to present on topics such as science and consciousness, well-being, leadership, technology, peace and justice, sustainability, and world transformation. Some of the world's top minds will investigate emerging facts in both a scientific and spiritual context and explore creative solutions to questions facing modern and future realities. The goal of this contemporary synthesis of ideas and facts is to allow science and soul to coexist comfortably, while ultimately paving the way for the future evolution of humanity.
HOW: Register online at http://www.choprafoundation.org/events-initiatives/sages-scientists/resgitrationsponsor/
The Chopra Foundation is requesting a donation of $1,995—$1,000 of which is tax deductible—for general participation, after which registration will be complimentary. General registration includes registration to the Symposium, planned program meals, and The Chopra Foundation Awards evening.
MORE: The Chopra Foundation is a 501(c)(3) organization dedicated to improving health and well-being, cultivating spiritual knowledge, expanding consciousness, and promoting world peace to all members of the human family.
The organization's mission is to participate with individuals and organizations in creating a critical mass for a peaceful, just, sustainable, and healthy world through scientifically and experientially exploring non-dual consciousness as the ground of existence and applying this understanding in the enhancement of health, business, leadership and conflict resolution.
###