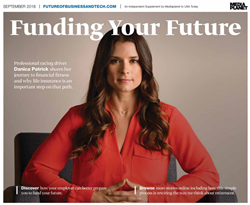 "Both of my parents lost their fathers at a young age and neither had life insurance, so I've been aware of the importance of financial responsibility since I was a young girl."
NEW YORK (PRWEB) December 06, 2018
In the midst of Life Insurance Awareness Month, Mediaplanet announces the launch of the September edition of "Funding Your Future." This campaign will advocate for increased awareness for planning and saving for one's future, while highlighting the different tools and resources that are available to all readers, no matter what age or stage of life they're in.
More than 40% of the workforce has not saved enough money for retirement, and with life-expectancy increasing, this problem is expected to only get worse over the coming years, contributing to what many experts have called a retirement crisis. This campaign covers several different topics under the umbrella of "Funding Your Future" including financial planning tips, the role employers can play in preparing their employees for retirement, supplemental income through real estate and reverse mortgages, and how life insurance can protect your financial future.
The print component of "Funding Your Future" is distributed within today's edition of USA Today in Chicago, Philadelphia, Los Angeles, Boston, New York and Washington DC/Baltimore markets, with a circulation of approximately 250,000 copies and an estimated readership of 750,000. The digital component is distributed nationally, through a vast social media strategy, and across a network of top news sites and partner outlets. To explore the digital version of the campaign, click here.
Long-time Life Insurance advocate Danica Patrick graces the cover of the print publication. Through an exclusive interview on the interior, Danica reveals when she first discovered the importance of life insurance, having personally experienced the loss of a loved one without life insurance, Patrick advocates for all families to ensure financial stability for their futures.
"Both of my parents lost their fathers at a young age and neither had life insurance, so I've been aware of the importance of financial responsibility since I was a young girl. Life insurance was definitely important when I raced cars at 200 mph, and it remains important in this next phase of my life as well." For the last 3 years, Patrick has been the spokeswoman for LifeHappens, a nonprofit organization dedicated to helping Americans take personal financial responsibility through the ownership of life insurance and related products, including disability and long-term care insurance.
Reverse Mortgage experts Shelley Giordando and Jamie Hopkins are featured in the campaign alongside the National Reverse Mortgage Lenders Association to educate readers on what a reverse mortgage is and the impact it can have on one's financial future- an option that many are unaware of.
This campaign was made possible with the support of Danica Patrick, LifeHappens, the American Council of Life Insurers, Society for Human Resource Management, American Retirement Association, National Council on Teacher Retirement, Jamie Hopkins, Shelley Giordano, Association for Financial Counseling & Planning Education, Financial Planning Association, Employee Benefit Research Institute, Consumer Financial Protection Bureau, Alliance for Retired Americans, National Reverse Mortgage Lenders Association, ADP, SelectQuote, RocketLoans, LendingTree, Genworth Insurance, Retirement Funding Solutions, and OneMain Financial.
About Mediaplanet
Mediaplanet specializes in the creation of content marketing campaigns covering a variety of industries. We tell meaningful stories that educate our audience and position our clients as solution providers. Our unique ability to pair the right leaders with the right readers, through the right platforms, has made Mediaplanet a global content marketing powerhouse. Our award-winning stories have won the hearts of countless readers while serving as a valuable platform for brands and their missions. Just call us storytellers with a purpose. Please visit http://www.mediaplanet.com for more on who we are and what we do.
Press Contact:
Amanda Deutch
amanda.deutch(at)mediaplanet.com
(646) 755-7964