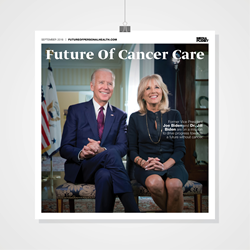 This year, an estimated 1,735,350 new cases of cancer will be diagnosed in the United States, and 609,640 people will die from the disease.
NEW YORK (PRWEB) November 08, 2018
In the midst of several cancer awareness events this fall, Mediaplanet has recently launched its September edition of "Future of Cancer Care."
This year, an estimated 1,735,350 new cases of cancer will be diagnosed in the United States, and 609,640 people will die from the disease. Yet it is also the year in which a collective hope for a cure is stronger than ever, making it an exciting time in cancer treatment innovation. Between advancements in pharmaceutical research boosting disease-specific drug approvals and the growing industry of personalized medicine, a collective hope for a cure is stronger than ever. In response, this campaign will give healthcare professionals and patients the power of knowledge to manage their own healthcare and most importantly understand the current, most effective diagnosis and treatment options leading to a cure, both on a personal and global level.
The print component of "Future of Cancer Care" is distributed within today's edition of USA Today in New York, Boston, Chicago, Los Angeles, Houston, South Florida, and Washington DC/Baltimore markets, with a circulation of approximately 250,000 copies and an estimated readership of 750,000. The digital component is distributed nationally, through a vast social media strategy, and across a network of top news sites and partner outlets. To explore the digital version of the campaign and more stories, click here.
Leading the charge in inspiring patients, families, and healthcare professionals are cover story Joe and Jill Biden, who are the faces and of the independent nonprofit, the Biden Cancer Initiative, whose mission is to drive progress in cancer prevention, detection, diagnosis, research and care.
Former Vice President Biden stresses the importance of staying informed about the latest developments in cancer treatment and research given his eldest son Beau's battle with an aggressive form of brain cancer. "When my son was diagnosed with stage IV glioblastoma, I did what any parent or loved one would do – I tried to learn as much as I could about the disease he was facing," says Biden.
Joe and Dr. Jill Biden started the Biden Cancer Initiative to help families do just this and are calling on cancer organizations nationwide to hold their own community summits during their first ever Biden Cancer Summit on September 21, 2018. Dr. Jill Biden stresses that, "Too many families in every corner of the world are grappling with the realities of cancer – let us show them that we are in this together."
This campaign was made possible with the support of the Biden Cancer Initiative, ASCO, Stand Up to Cancer, ASTRO, Tesaro, Iovance Biotherapeutics, Varian, National Ovarian Cancer Coalition, National Cancer Institute, IBA Worldwide, City of Hope, American Cancer Society Action Network, American Association for Cancer Research, Inova Health, Prostate Cancer Foundation, Cancer Support Community, Cancer and Careers, Baptist Health, Wills Eye Hospital, National Cancer Registrars Association, Breast Cancer Research Foundation, Prostate Cancer Foundation, Personalized Medicine Coalition, Association of Community Cancer Centers, Society for Surgical Oncology, and many more!
About Mediaplanet
Mediaplanet specializes in the creation of content marketing campaigns covering a variety of industries. We tell meaningful stories that educate our audience and position our clients as solution providers. Our unique ability to pair the right leaders with the right readers, through the right platforms, has made Mediaplanet a global content marketing powerhouse. Our award-winning stories have won the hearts of countless readers while serving as a valuable platform for brands and their missions. Just call us storytellers with a purpose. Please visit http://www.mediaplanet.com for more on who we are and what we do.
Press Contact:
Victoria Borkowski
victoria.borkowski@mediaplanet.com
Phone: (646) 755-7949