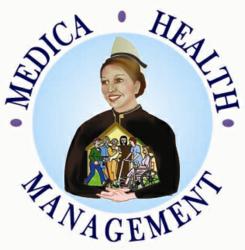 We combined visually appealing designs with an uncomplicated navigation menu and informational content to produce a website that leads people to action.
Southlake, TX (PRWEB) March 25, 2013
i5 web works, an award-winning website development and Internet marketing company based in Dallas Fort Worth, was selected by Medica Health Management to manage its Internet marketing program throughout Texas, which includes the development of five new websites, social media management, and search engine optimization (SEO).
Medica Health Management is a single source management company, providing solutions for Home Health and Hospice management. Since 1995, Medica Health Management has paved the way as the single source management company targeting all aspects of agencies by providing solutions for Home Health and Hospice management and generating a contemporary organized way to supervise the agencies.
According to Carita Weaver, co-founder and partner of i5 web works, the new websites will be instrumental in expanding Medica Health Management's online presence and increasing customers within each of its markets.
"We combined visually appealing designs with an uncomplicated navigation menu and informational content to produce a website that leads people to action, which is the whole point," explains Weaver, "Now that the website has launched, we will put our SEO skills to work to get it ranked for the appropriate search terms. A website is not an effective sales tool if people can't find it."
In addition to designing and developing the primary Medica Health website, http://www.medicahealth.com, i5 web works will be launching websites and managing all aspects of internet marketing, including social media, for Medica's sub-organizations:

CC Health Training Center, a not-for-profit school which provides Nurse Aide training to individuals for Certification as a Nurse Aide in the state of Texas passing the state exam
Cuidado Casero, a group of Medicare certified agencies providing home care and hospice, PCO, PCA, and PHC in Texas, New Mexico, New Jersey, Virginia, and Puerto Rico
Woundmasters, a wound care program offering a full scope of services to its clientele, by a highly qualified staff specialized, in wound care.
Happy Feet and Body Formula, balm and lotion products with a unique blend of various natural ingredients that help improve circulation, reduce scarring, relieve pain and swelling, while restoring skin to a healthier, softer, and smoother texture.
i5 web works has a proven track record of working with companies for local, regional and national Internet marketing campaigns since 2001, including website design and development, pay-per-click (PPC) advertising, and social media marketing.
For more information about i5 web works' Internet marketing solutions in Dallas-Fort Worth, go to http://www.i5ww.com or call 888-893-7519.
About i5 web works
i5 web works provides search engine optimization, Internet marketing, domain registration, and comprehensive site management programs that include website design, maintenance and hosting. The company serves clients in a broad range of industries from its headquarters in the Dallas Fort Worth area. i5 web works understands the application of Internet marketing services, pay per click advertising, search engine optimization, and social media for both business-to-business and business-to-consumer purposes. Creating an Internet presence requires an in-depth understanding of natural search engine optimization techniques and supporting Internet marketing programs. Celebrating its 10th anniversary in 2011, i5 web works has the experience and ability to execute these programs. Co-owners Michael Burns and Carita Weaver take their tagline to heart: "Be Found!"
About Medica Health Management
Medica Health Management was founded by Dr. Carmen Santiago. Medica currently manages agencies that serve approximately 10,500 patients and brings in revenues estimated at $20 million annually. Medica provides a variety of services which include: Clinical, Financial and Human Resource components. Medica has developed a proven assessment process for a comprehensive evaluation of the five key critical components of homecare agency success. Medica provides a wide range of financial solutions and expertise to help maximize an agency's performance. Clinical, administrative and financial education modules and activities are designed to help agencies effectively manage financial and clinical goals under PPS for maximum efficiency and appropriate reimbursement. Learn more about Medica Health Management at http://medicahealth.com.