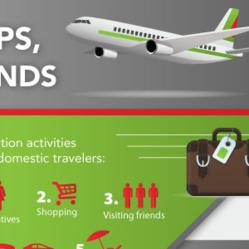 Finally, have fun. Plan activities that match your energy levels and make certain to get enough sleep and take time to relax.
SALT LAKE CITY (PRWEB) March 28, 2012
One of the best perks of retirement is having more time to travel, and now that spring is here, senior citizens are catching the travel bug. But whether traveling a few hundred miles to visit the grandchildren or a few thousand miles around the world, it's important to plan ahead. ActiveCare recognizes the need for active senior living, and now offers tips for senior citizens on the go. A new infographic from ActiveCare has useful advice and statistics for seniors preparing to hit the road.
"Always travel with a friend or travel partner," said Jim Dalton, chairman of the board for Utah-based ActiveCare. "It's important to travel with at least one other person. If that's not possible, consult a travel agent for travel packages tailored to seniors."
Dalton also recommended leaving a copy of travel itineraries and contact information with a family member or friend so someone knows where you are at all times.
"ActiveCare's Personal Assistance Link is an asset because it offers roadside assistance, GPS locating and directions, so if you break down on the side of the road or find yourself lost, you're only one button away from being connected to a care specialist," Dalton said.
ActiveCare offers independent living services 24 hours per day, seven days a week. The Personal Assistance Link offers everything from cellular access to fall detection technology, allowing senior citizens to retire at home living safely and independently.
"It's important to pack enough medicine to last your entire trip plus a few extra days," Dalton said. "You never know if something will come up, forcing you to stay longer than anticipated. This is especially important if you are traveling abroad, as some medicines may not be available in certain countries."
Dalton said that carrying doctor notes explaining the use of medications is also a good idea.
"It's important to do your research before traveling. Write down the medical facilities in the area. If you're traveling abroad, look up the U.S. embassy's location and phone number," Dalton suggested.
ActiveCare also recommends senior citizens:

Call airports and hotels ahead of time to make arrangements for wheelchairs, service dogs, oxygen tanks and other medical devices.
Look into purchasing travel insurance that covers pre-existing conditions.
Visit a doctor before leaving to get a physical and necessary vaccinations.
Avoid wearing expensive jewelry or carrying too much cash.
Have medication in carry-on bags in case of emergency.
"Finally, have fun. Plan activities that match your energy levels and make certain to get enough sleep and take time to relax," Dalton advised.
About ActiveCare
ActiveCare is a leading provider of independent living systems. The company's Personal Assistance Link allows senior citizens to live actively and independently knowing that medical assistance is available with the push of a button 24 hours per day. For more information about ActiveCare visit http://www.activecare.com.