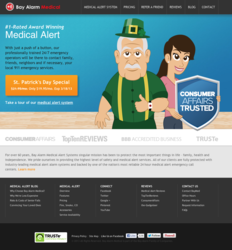 Pacheco, CA (PRWEB) March 20, 2013
Medical alert systems provider Bay Alarm Medical, today announced the launch of a new mobile-friendly Web site at http://www.BayAlarmMedical.com.
The new Web site uses a design technique known as "responsive design" that automatically optimizes Web site display depending on the type of browser being used. Visitors accessing the Bay Alarm Medical Web site using smart phones or tablets such as an iPad will have the same user experience as visitors using laptop or desktop computers.
"Our customers are excited about the new Web site," says Alan Wu, marketing manager for Bay Alarm Medical. "We work with clients and their families to provide security and peace of mind, and our redesigned Web site is responsive to their needs. Using any web-enabled device, they're able to easily access the material needed to make an informed choice about medical alert systems."
Visitors to the Web site can ask questions via a live online chat feature, compare Bay Alarm Medical's service and pricing to other medical alert systems providers, and review the monitoring options the company offers.
Mobile Web browsing is the fastest growing sector of the Internet. A February 2013 white paper from Cisco's Visual Networking Index projects that this year, mobile devices will account for over 50% of Internet traffic and the number of mobile devices will exceed the world's population. In the past, Web site owners have displayed a stripped-down version of the site to mobile users, with less functionality and information. That technique is swiftly becoming obsolete as smart phones and tablets become standard equipment in many families.
"Who knows? Soon our company mascot, Grumpy Grandpa, may buy a smart phone or receive an iPad from the grandchildren," says Wu.
Cartoon character, "Grumpy Grandpa" addresses the serious topic of senior falls in an accessible, engaging way. Wu explains that it offers family members the opportunity to begin a serious conversation with older relatives who may resist home medical alert monitoring. Families should be proactive, but that's not always possible if seniors won't accept assistance.
"Many families contact us after a family member has experienced a fall or other health problem," Wu says. "During a stressful time like that, people need information at their fingertips – or on their phones. The flexibility of our new responsive design gives them easy, reliable access to the information they need to make important decisions."
About Bay Alarm Medical
Bay Alarm Medical is an arm of Bay Alarm, one of the nation's oldest alarm monitoring companies. The company offers high quality medical alert systems together with 24/7 monitoring by professionally training emergency operators who contact family members, friends, neighbors and, if necessary, local 911 emergency services. Bay Alarm Medical's