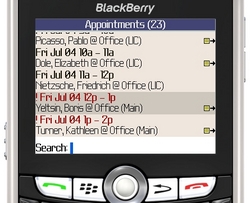 I've found software that's truly mobile, and actually faster to use [than handwritten sheets]. Consults entered on the Web site census by my staff appear automatically on my BlackBerry, saving me time.
New York, NY (PRWEB) July 10, 2008
pMDsoft, Inc. today released a major upgrade to its mobile charge capture software for the BlackBerry. Version 4.1 adds support for outpatient billing, allowing providers to enter charges directly from the day's appointments. The new release, which is free to existing customers, also gives every provider a personal view of the practice's centralized call schedule.
The addition of office billing and practice management takes the revolutionary charge capture solution to the next level, creating the only complete inpatient and outpatient charge capture system for private practices. Philippe d'Offay, the company's president, declares that "physicians are tired of trying to piece together their billing using a patchwork of hospital systems and paper. They're tired of playing 'telephone' with patient hand-offs, and of storing sensitive patient data in Outlook calendars. They're ready for a secure, integrated solution that will enhance communication, capture charges that would have been lost, and play well with the software infrastructure that they already have."
Mobile Appointments Simplify Office Billing:
pMDsoft's fully-functional Web-based calendar has been enhanced to support recurring appointments, reducing the overhead of scheduling patients. Thanks to pMDsoft's wireless background sync, these appointments - and any changes or cancellations - are pushed automatically to doctors' BlackBerries, ensuring that they always have the latest schedule even when they're on the go. Entering charges for these appointments takes just a few clicks, and is often faster than paper billing because the date, place of service, and patient information are already in the system. Color coding provides a clear visual indicator of which appointments have charges entered, and which still need attention.
This feature completes the package for any physician who sees patients in the outpatient setting, and brings the advantages of the BlackBerry platform to specialties that are almost exclusively office-based. Dr. Dessye-Dee Clark of Sound View Counseling exclaims that "I really like using pMDsoft for the BlackBerry for my office billing! It's fantastic that I have an up-to-date schedule with me wherever I'm at, and I can enter charges easily throughout my day. pMDsoft's support has been wonderfully attentive, not only regarding their software but also with the transition to BlackBerry."
Your Call Schedule, Where You Want to See It:
Enhancements to pMDsoft's online call schedule now allow staff to create recurring shifts and assign doctors to them with a single click, eliminating duplication of effort when the same shifts are used from one month to the next (even if the doctors change). Each doctor's call schedule is integrated with the BlackBerry's calendar, helping them stay organized and avoid schedule conflicts. As with appointments, automatic wireless synchronization keeps doctors' BlackBerries up to date with the latest changes, so they can always tell when they'll be on call.
Michael Rotman, MD, of Urological Consultants takes full advantage of the automatic over-the-air updates while he travels between multiple offices and facilities, rejoicing that "I've found software that's truly mobile, and actually faster to use [than handwritten sheets]. Consults entered on the Web site census by my staff appear automatically on my BlackBerry, saving me time."
Improved Auto-Sync, Yet Even Better Battery Life:
The realtime auto-sync functionality that allows pMDsoft for the BlackBerry to provide full functionality anywhere, with or without wireless coverage, has been optimized to sync faster, smarter, and even when the BlackBerry is locked. That means doctors already have the most current data when they wake up in the morning, because pMDsoft has been pushing it to their BlackBerries throughout the night. There is no battery tax for these improvements: pMDsoft works hard to keep the footprint of its software on the device tiny, so the application's power usage has actually decreased by nearly 60% in version 4.1.
It's this obsession with perfection that has made pMDsoft successful, and has customers such as Mitchell Yadven, MD, of Urology Partners singing its praises: "The simple efficiency of the pMDsoft system on the BlackBerry platform is time saving and a pleasure to use."
About pMDsoft:
Headquartered in New York City, pMDsoft develops wireless applications that help physicians streamline and automate their entire practice from point-of-care through reimbursement. The company was started in 1999 to address physicians' need for an effective, mobile alternative to their paper-based method for recording patient encounters. pMDsoft developed the powerful, flexible, reliable and easy-to-use mobile charge capture solution physicians were seeking. By providing real-time access to patient information anywhere, at any time via handheld devices or desktop computers, pMDsoft's medical billing program enables physicians to automate charge capture; view hospital census and office schedules; create a centralized patient information resource for the practice; and more. Through it all, we protect your patient data by adhering to the highest standards for performance, security and reliability.
Today, pMDsoft's customers include individual physicians, physician practice groups, managed care organizations, hospitals, and billing companies located across the country. We attribute our success to our unwavering commitment to developing the best solution on the market and to our superior customer service.
###