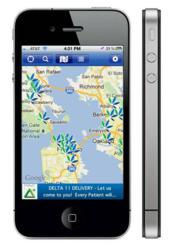 Mobile apps are a necessity—people are always on the go and not in front of their laptop
Greenbrae, CA (PRWEB) February 18, 2012
As more people own smartphones, it is important to create mobile marketing apps that focus on three key principles: immediacy, simplicity and context, according to a new research report by Forrester. With this in mind, Doobons.com has launched its new iPhone/iPod/iPad app as a discreet and easy way for patients to instantly locate nearby medical marijuana dispensaries and other resources. The easy-to-use medical marijuana app is already earning rave reviews from users, and has a five-star rating—the highest rating available in iTunes.
The Doobons.com website was just launched in November 2011 as a way to simplify online searches for medical cannabis resources and make medical cannabis approachable to all adults, even those with no previous experience with the medical marijuana industry. As a smartphone app, Doobons offers an even more convenient, on-the-go tool.
"Mobile apps are a necessity—people are always on the go and not in front of their laptop," said John, founder of Doobons.com. "We launched the app 10 days ago, and without even marketing it, over a hundred people have downloaded it—and the number of daily downloads is growing fast."
The Doobons app's simple interface allows users to quickly find resources like dispensaries, doctors, lawyers, delivery services and discounts in the immediate area. Users can either allow their device to use geolocation to pull up medical marijuana resources nearby, or search by city name or zip code and customize the type of search results in the settings tab.
Users can also choose to have the app display search results as icons on a Google map or as a list. A single click on a location reveals contact information and directions to the business. The simplicity and usefulness of these features make the app highly recommended by users, who describe it as "easy to use" and "extremely handy."
Doobons.com was designed to be convenient and to appeal to everyone, including those who are new to the world of medical cannabis. While most of today's online medical marijuana directories are designed for patients who already know at least something about using medical marijuana, Doobons.com is designed to be user friendly for patients of all ages and experience levels.
Doobons.com is more than just another online medical marijuana directory. The site's News, Resource, and Blog pages provide valuable information and advice for patients and caregivers. The information posted helps new patients learn about the ins and outs of the world of medical marijuana, and existing patients stay abreast of developments.
The five-star-rated Doobons app is now available for free on the iTunes app store for iPhone 3GS, iPhone 4, iPhone 4S, iPod touch (3rd generation), iPod touch (4th generation) and iPad that runs on iOS 4.3 or later.
For more information about Doobons.com, call (415) 524-8099 or go to http://www.Doobons.com online. The best way to stay informed about developments about Doobons.com is to like them on Facebook at http://www.facebook.com/pages/DOOBONSCOM/211376972233726 and follow them on Twitter at http://twitter.com/#!/doobons.
About Doobons.com
Doobons.com is an online medical marijuana resource for prospective and current patients, caregivers and medicinal cannabis industry professionals. The medical cannabis resource site is designed be a comprehensive source of information for everyone from novice medical cannabis users to experienced industry professionals. Doobons.com is discreet, safe and professional.
###