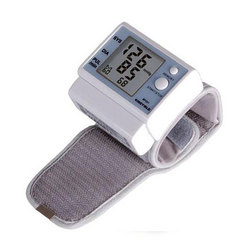 As people often do not know that heart rate is also a signal for the health conditions of the human body
Livonia, MI (Vocus) July 27, 2010
As is one of the leading online home medical equipment suppliers, Medicalequipmentpro.com specializes in portable and user-friendly equipment like Body Fat Monitor, Blood Pressure Monitor and Thermometer. A new promotion has been launched on selected Pulse Oximeters, like Pulse Oximeter 1210060C2 from July 17th, 2010. "As people often do not know that heart rate is also a signal for the health conditions of the human body," said Eric Steven, Chief Operating Officer of Medicalequipmentpro.com. "We introduced Pulse Oximeters on our website for the daily home use of people of all ages."
Pulse Oximeter 1210060C2 provides reliable and accurate oxygen saturation and heart rate values. This equipment can be used in many situations: during exercise or daily activities, during air travel for the passengers or pilots, and for extreme sports such as mountain climbing. It is not a medical device and does not require a prescription from the medical professionals. This device has a one color LED display and weighs merely 50 grams (including batteries). It is a perfect finger pulse oximeter and comes with 2-Year Warranty and users guide.
(From Wikipedia) A number of investigations indicate that faster resting heart rate has emerged as a new risk factor for mortality in homoeothermic mammals, particularly cardiovascular mortality in human beings. Faster heart rate may accompany increased production of inflammation molecules and increased production of reactive oxygen species in cardiovascular system, in addition to increased mechanical stress to the heart. Generally, the number of heart beat over life time is considered as an allotment. Those who have faster heart rate are using their heart beat allotment faster, therefore likely having a reduced lifespan.
An Australian-led international study of patients with cardiovascular disease has shown that heart beat rate is a key indicator for the risk of heart attack. The study, published in The Lancet (September 2008) studied 11,000 people, across 33 countries, who were being treated for heart problems. Those patients whose heart rate was above 70 beats per minute had significantly higher incidence of heart attacks, hospital admissions and the need for surgery. University of Sydney professor of cardiology Ben Freedman from Sydney's Concord hospital, said "If you have a high heart rate there was an increase in heart attack, there was about a 46 percent increase in hospitalizations for non-fatal or fatal heart attack."
Apart from measuring heart rate through determining pulse, Pulse Oximerters 1210060C2 are also useful in the situations where a patient's oxygenation is unstable, including intensive care, operating, recovery, emergency and hospital ward settings, pilots in unpressurized aircraft, for assessment of any patient's oxygenation, and determining the effectiveness of or need for supplemental oxygen. Assessing a patient's need for oxygen is the most essential element to life; no human life thrives in the absence of oxygen (cellular or gross).
About Medicalequipmentpro.com
Since being built in May, 2008, Medicalequipmentpro.com has been one of the leading online suppliers of durable and user-friendly home medical equipment to customers worldwide. The products include Body Fat Monitor, Fetal Doppler Heart Monitor, Blood Pressure Monitor, Hearing Aid and more, which are all offered at competitive prices. It has been Medicalequipmentpro.com mission to provide satisfactory services and the right medical equipment for customers' health.
For more information, please contact:
Shirley Julie
Tel: +1-718-880-7850
Email: service(at)medicalequipmentpro(dot)com
Or through Live Chat on http://www.medicalequipmentpro.com
# # #