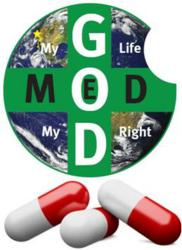 Federal law is wrong on this issue, and a majority of the country wants it changed.
San Francisco, CA (PRWEB) November 03, 2011
California's medical marijuana industry has been making headlines recently, with reports of various federal actions aimed at closing medical cannabis clubs, including the ATF denying patients the right to own a gun, the IRS charging millions in back taxes to dispensaries, and several US District Attorneys announcing a campaign to close marijuana clubs. These actions, aimed at enforcing federal law, are in direct contrast with the tide of public opinion, says God Med Synergistic Herbal Corp (GMSHC), pointing out that more than 50% of Americans now support marijuana legalization.
"The Obama Justice Department and other agencies may posture about how they're defending federal law, but they're ignoring the elephant in the room: federal law is wrong on this issue, and a majority of the country wants it changed," says Steve Casebeer, a longtime marijuana activist and founder of GMSHC.
The marijuana legalization poll, conducted earlier this month by Gallup, surveyed 1,005 American adults, finding that 50% of respondents support marijuana legalization, up from 46% last year. The poll marked the first time a majority of respondents have supported legalization since the survey began in 1969.
Support is highest among liberals and the 18-to-29 demographic (69% and 62%, respectively), and lowest among those 65 and older and conservatives (31% and 34%, respectively). Men are more in favor than women (55% vs. 46%). Legalization has highest support in the West and Midwest, and lowest in the South (55%, 54%, and 44%, respectively).
"Support for legalizing marijuana has been increasing over the past several years, rising to 50% today -- the highest on record," Gallup concludes. "If this current trend on legalizing marijuana continues, pressure may build to bring the nation's laws into compliance with the people's wishes."
GMSHC encourages people who support changing the law to take action for marijuana legalization, and provides information and links to help supporters make their voices heard.
"Marijuana prohibition is a failure. The federal government needs to realize what a majority of the people it represents already know: marijuana should not be classified as a 'Schedule 1' drug," declares Steve. "Cannabis has legitimate medical purposes, and should also be regulated, taxed, and sold for recreational use."
About God Med Synergistic Herbal Corp (GMSHC)
God Med Synergistic Herbal Corp (GMSHC) is a California medical cannabis non-profit organization that specializes in the production of medical cannabis capsules. GMSHC capsules are made from nothing but Emerald Triangle cannabis buds, kif, and non-GMO soy lecithin emulsifier inside a veg capsule. These medical marijuana pills deliver the full spectrum of components of medical marijuana flowers, providing whole plant therapy in a convenient, discrete, easy-to-swallow capsule. Patients have used the medicine to naturally treat hundreds of ailments from headaches to depression to cancer without the sometimes debilitating side effects of prescription medications.
GMSHC capsules are available at a number of California medical marijuana dispensaries and online at GodMedsFor.Me. Dispensaries can place orders online at GodsMedicine.us. GMSHC also offers revolutionary health enhancement products at http://www.GodMedGoods.com
For more information about GMSHC, call or fax (877) 592-7727. For more information about medical marijuana pills or any of God Med Synergistic Herbal Corp's services, visit GodMed.com.
###