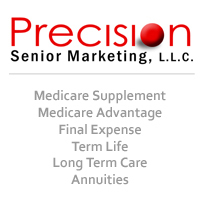 This is the most prominent Medicare product release in years
Austin, TX (PRWEB) September 8, 2009
Precision Senior Marketing (PSM), a national Medicare Broker, announced today that it is an exclusive distributor of Gerber Life Insurance Company's new Medicare supplement product. Filed for approval in 32 states for 2009, the Gerber Life Medicare supplement brings the financial stability and national brand recognition of the Gerber name to the senior market.
"This is the most prominent Medicare product release in years," says PSM President Lucas Vandenberg. "PSM is honored to be an exclusive distributor of a product that we believe will be highly sought after by senior market insurance agents throughout the country."
Since 1967, Gerber Life Insurance Company has provided quality insurance products. Gerber Life has more than $33 billion of life insurance in force, and helps provide financial security to over 2.9 million policy holders. The Gerber Life Medicare supplement provides stability for seniors, filling the gap in coverage that Medicare doesn't provide.
"Gerber is one of the most trusted and recognized brands in America, especially among seniors," says PSM agent John Thompson. "And it's that trust factor in combination with competitive premiums why I anticipate a fantastic reception by senior citizens across the country."
PSM encourages independent insurance agents to visit its website and/or call 1-800-998-7715 to learn more about this exciting new product. And with PSM's electronic licensing process, agents can get contracted for this product in as little as 5 minutes.
Located in Austin, Texas, Precision Senior Marketing, LLC is a full-service, national insurance marketing organization dedicated to recruiting, servicing, and supporting the best senior market insurance agents in the United States.
Media Contact:
Richard Ybarra, Web Manager
Precision Senior Marketing
800-998-7715
http://www.psmbrokerage.com
# # #