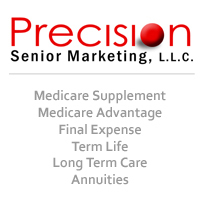 The online enrollment process has been a life saver in this economy
Austin, TX, (PRWEB) July 30, 2009
Senior insurance agents across the country are beginning to realize the vast potential of the Medicare Supplement Online Enrollment process. "The online enrollment process has been a life saver in this economy" says Medicare supplement broker Jason Patterson. "Before, I was riding around all over town servicing maybe 3 or 4 clients a day if I was lucky. Six months into Med supp online enrollment, I'm now serving between 15-20 clients a day across 5 states."
Jason Patterson was introduced to online enrollment by his Medicare FMO - Precision Senior Marketing. "If it wasn't for Lucas and the guys over at PSM, I'd be in traffic right now sweltering in my car and drowning in an ocean of paperwork. They took the time to explain what it all meant for my business."
Next year 400,000 seniors will need new coverage after losing their Medicare Advantage PFFS plans. Add this to the thousands of people turning 65 everyday, and this open enrollment season is going to be fiercely competitive for everyone in the industry. In the 21st century, Agents must arm themselves with the latest technology to differentiate their business and gain key competitive advantages.
"Jason is just one of our agents who have exceeded our expectations with online enrollment. It's just one way we teach our agents to leverage the power of technology to transform their businesses. Instead of only serving nearby clients, online enrollment allows agents to service most of the country right from their offices with minimal paperwork" says Lucas Vandenberg, Owner of Precision Senior Marketing.
In addition to online enrollment, Precision Senior Marketing utilizes other technology to empower its agents to succeed in the market. Electronic licensing allows agents to appoint with multiple carriers in only 10 minutes, free web design makes establishing an online presence easier than ever, and weekly blog posts keep agents up-to-date and provides them a forum to speak out on the latest developments in the senior market.
Medicare Supplements continue to be a stable and secure health insurance product for both clients and agents. According to a June 2009 survey by America's Health Insurance Plans (AHIP), 9 in 10 seniors are satisfied with their Medigap policies. 2010 sees the introduction of Medigap plans M and N which is another great opportunity for new business.
Located in Austin, Texas, Precision Senior Marketing, LLC is a full-service, national insurance marketing organization dedicated to recruiting, servicing, and supporting the best senior market insurance agents in the United States.
For more information visit http://www.psmbrokerage.com or call 1-800-998-7715.
###