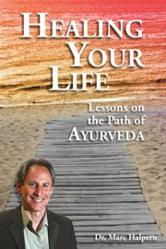 "Both easily accessible and deeply empowering, Dr. Marc Halpern walks by your side as you walk the Ayurvedic path of healing."
— Dr. David Frawley, Author and Ayurvedic Scholar
Miami, FL (PRWEB) September 17, 2012
Through 15 practical lessons in the new book "¿Cómo sanar su vida? ," Dr. Marc Halpern, President of the California College of Ayurveda, shows how even small changes in what people eat, see, hear, smell, and touch, can profoundly improve health and happiness.
Ayurveda is the most complete and best developed natural system of health worldwide. It is one of the few systems of medicine that treats the patient at the level of body, mind and consciousness. Each of us intuitively wants someone who really understands who we are and why we are sick at the deepest level.
Healing is a personal journey. Each person deeply desires but struggles to be happy, healthy and whole, moving forward one lesson and one step at a time. The path eventually leads to optimal health, peace of mind and a deep satisfaction in life. Ayurveda provides a foundation for self understanding and a clear road map for how to live life in a manner that will support your healing process. The book show the path of unlocking our healing potential. Dr. Marc Halpern shares his own personal journey of healing himself from a crippling autoimmune disorder and seven years of subsequent chronic fatigue. Along the way he reveals the Lessons On The Path. Lessons that anyone can use to support their own healing journey. The book includes:

Inspiration to reach your full physical, emotional and spiritual potential
Explore the knowledge of Ayurveda in a personal and meaningful manner
Practical exercises are included to guide you along the path
Learn how to heal your life
About the author
Dr. Marc Halpern D.C., C.A.S., P.K.S., is one of the most respected teachers of Ayurvedic Medicine in the United States. Founder and President of the California College of Ayurveda and co-founder of the National Ayurvedic Medical Association and the California Association of Ayurvedic medicine, Dr. Halpern has been instrumental in bringing ayurvedic medicine to the West. The author of twotextbooks, an advisor to ayurvedic journals in India and the United States and a recipient of the Best Ayurvedic Physician award, Dr. Halpern is one of the few Westerners recognized as an expert in Ayurveda internationally. Dr. Halpern's background as Chiropractor and Yoga Teacher in the Sivananda tradition, and his postgraduate certificationin Holistic medicine have given him a broad and unique understanding of the path of Self-healing.
Dr. Halpern will visit Bogotá, Colombia, in January 2013 for the presentation of the book. For more details please visit Ayurmed.org Ayurmed is also the publisher of other titles in Spanish including el "Libro de cocina ayurvedica" and "Ayurveda y la mente"
What called your attention about Colombia?
One of my personal students and graduate of our programs, Santiago Suarez, lives in Colombia. He is a very good teacher and Ayurveda practitioner. He is the Director for Latin America for Escuela de Ayurveda de California. He is helping to grow Ayurveda, not only in Colombia but throughout Latin America. Santiago has asked me to come and share the knowledge of healing through Ayurveda with you all.
In his latest book "Healing your Life" You speak of how the misuse of the senses is one of the causes of the disease. How can we start using our senses more appropriately?
Each person needs guidance and support to make changes to the way we live our lives. That is the role of the Ayurvedic Health Professional and Specialist. The process begins by understanding who you are as an individual and how to use your senses properly. Nothing is right for everyone. However, what is right for one person is not necessarily so for another one. A practitioner of Ayurveda will help you learn what is right for you and then give support to live accordingly. Real change is a slow process of learning and practice. Your health is there to be your coach and yourself are your own master.