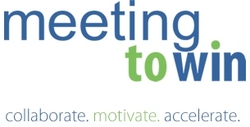 Atlanta, GA (PRWEB) December 9, 2008
The weekly sales team meeting should be a time for a sales team to collaborate on ideas, learn new practices and prepare to compete and win. Right now meetings may turn negative as sales professionals face new challenges during this recession. To keep positive momentum during a down economy, the weekly team meeting should involve every participant's input, cover interesting and relevant topics, build business acumen, allow the less experienced to learn from the more experienced and build a collaborative team environment all focused on winning in the current selling environment. If a Sales Manager is planning and executing interesting, positive, collaborative, relevant weekly sales team meetings (meetingtowin.com/10tips), the benefits will be endless. The team at Meeting to Win, LLC (meetingtowin.com) created a list of 10 benefits Sales Managers can experience by committing to great, well-planned weekly sales team meetings right away.
#1: Teamwork. The Sales Manager should not be the only "go-to" person for the entire sales team. When sales teams get together for a collaborative weekly sales team meeting, they are constantly learning from each other's experiences and areas of expertise. When new sales challenges arise, team members will call each other for ideas and help. Sales Managers don't have all the answers and should be thrilled when their teams harness the collective experience of the entire team. Collaborative team meetings foster this practice and will help the team stay much more agile in an ever changing economy.
#2: Proactive Performance Management. When sales team meetings encourage participation from the entire team, Sales Managers get to hear how their teams think, solve problems, weigh in on challenges and analyze deal strategy. This is also an opportunity to gauge the attitude and mind-set of the team allowing the Sales Manager to address any problems before they get to a point of no return.
#3: Improved Win Ratio. When weekly sales team meetings are used to collaborate on live deals, recent wins and even recent losses, sales teams learn from actual experiences and apply those lessons to future deals shortening sales cycles and improving win ratios.
#4: Superior business acumen. This is a hot topic right now. Customers say they want to work with sales representatives who can help them run their businesses more effectively. Sales teams are never done building business acumen in a constantly changing business climate. The weekly sales team meeting should cover current events, relevant books and articles from thought leaders and apply those to their selling environment. Every week the team becomes more valuable to their customers with this commitment to building business acumen.
#5: Expanded expertise. Weekly sales team meetings provide an opportunity to hear from guest speakers who are experts on relevant topics. Sales team members can have access to a product or service specialist from your own company, a customer who is willing to share their experience with your company or a senior leader who can share your product/service pipeline. Using this time for relevant guests is a great use of time and expands the team's knowledge and expertise.
#6: Create, Discover or Develop Leaders. Effective weekly team meeting agendas allow the participants to lead discussions and exercises. This gives the entire team leadership opportunities each week.
#7: React in Real Time to Changing Economy. The economy and, therefore, the selling environment changes every day. Sales teams need to learn from each other as buyers are reacting. Sharing experiences in real time will prevent many surprises for the entire team. Success during this challenging time will come from awareness, appropriate planning and agility. The weekly sales team meeting allows for a "war room" approach to winning now.
#8: Focus. The weekly sales team meeting offers an opportunity to keep the sales team focused on the right activities and outcomes. Effective weekly sales team meetings keep the team accountable to the most important focuses and set the tone for the selling activity each week.
#9: Improved Sales Skills. No matter the experience level, no one has mastered selling. New skills need to be built while mastered skills need to be adapted to a new selling environment. The effective weekly team meeting offers opportunities to hone selling skills and become more and more effective.
#10: Fun! Sales Managers should use the weekly sales team meeting to motivate the team, celebrate successes and encourage efforts. By adding some fun, Sales Managers can keep a positive environment even when addressing challenging topics.
Of course, the key to experiencing these benefits is having consistently effective weekly sales team meetings. Meeting to Win has posted 10 Tips for leading effective weekly team meetings on their website (meetingtowin.com/10tips). Sales Managers can plan these effective weekly meetings themselves or they can choose to outsource this activity to Meeting to Win (meetingtowin.com). Either way, it only takes a few successful meetings to start enjoying the benefits outlined.
###