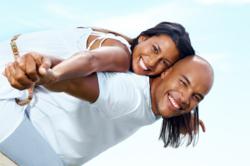 Statistics state that 1 in 5 relationships are created online, well that means 4 out of 5 aren't.
Dallas, TX (PRWEB) March 30, 2012
Meet n' Mix just launched and is truly Where Online Ends and Offline Begins. It is an innovative singles site offering the best online features with the best offline experience. No more endless messages and chats that get people nowhere. It's time to experience the first singles site to offer credits instead of monthly fees/subscriptions. The site offers simple features like unlimited "Meet Me's," credits known as "View Me's," and a trigger button called "Match Me." This is a singles site that helps serious singles connect the right way.
Meet n' Mix gives the best chance to meet and interact with Singles to begin a rewarding relationship via credits to unlock people's profiles online and encourages people to meet in person offline. Statistics state that 1 in 5 relationships are created online, well that means 4 out of 5 aren't. The original statistics looked at various single/dating sites cited in the research article titled "Match.com and Chadwick Martin Bailey 2009 - 2010 Studies: Recent Trends: Online Dating." Why pay just to message and chat with someone online when ultimately people are trying to get someone's Phone Number, Email, or Facebook/Twitter social media ID? Meet n' Mix is an interactive site that offers the best online features of View Me, Meet Me, Match Me, and the best offline experience with Meet n' Mix Events! Events, where people can express themselves in a fun-filled engaging environment with activities designed to help people interact. Moreover, Meet n' Mix Cards that help communicate interest between two people.
Meet n' Mix interactive events encourage people to get out of their shells by engaging in fun activities that reveal a person's personality, character, and interests. Why settle for the old and mundane of just searching for someone by age, profession, height, or weight? Sadly this type of criteria can cloud a person's judgment on what really matters in a relationship. Meet n' Mix events are a new and innovative twist on how singles events should be. Events that do not include any speed dating and instead a new and interactive way to meet people through fun-filled activity stations. It is simple to register for free and truly only takes 50 seconds via Facebook Register. The site uses innovative technology to pull people's Facebook photo and About Me section allowing a person to create a profile within less than a minute. Discover a new and innovative singles site that empowers people to stop wasting time. The only singles site that allows people to share social media ID(s) on their profiles. People never have to chat or message each other on Meet n' Mix because social networks exist. Why pay for something that is absolutely free on a social network like Facebook or Twitter? Feel empowered to view people's contact information and connect with them via their own network with View Me's. That's the real difference of Meet n' Mix.
About Meet n' Mix: A new innovative singles site specializing in Christian, Hindu, and Muslim singles events in major metro cities across the Country. The only singles site to offer a payment system using credits or tickets and the ability to show social media ID(s) on profiles.