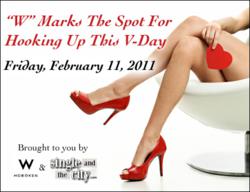 By partnering with a like-minded, fun, flirty brand like W Hotels we are very optimistic that this party will be a catalyst for many hook-ups and love connections
New York City, NY (Vocus/PRWEB) January 29, 2011
So you're single. Rather than spending "Singles Awareness Day" aka S.A.D. staying in and watching a Lifetime movie of the week, why not take advantage of what is in fact the BIGGEST "hook-up" day of the year for singles? Not only is it the best day to meet singles, Valentine's Day is also the best night to go out in the city because it's the one night of the year you're almost 100% guaranteed that the "singles" you're meeting are actually single.
With the goal of helping Tri-state area singles find a date Valentine's Day, which falls on a Monday this year, NYC-based dating agency, SingleAndTheCity.com is marrying up with W Hoboken to help NYC singles find their next great love and/or fling while having as much fun as possible in the process at NYC's sexiest Pre-Valentine's Day Singles Dating Soiree 7:00 pm – 10:30 pm on Friday, February 11th at W Hoboken's Great Room.
More than 300 NY singles between the ages of 21-48 are expected to attend this local dating event. "Love is a numbers game," says SingleAndTheCity Co-founder, Amber Soletti. "By partnering with a like-minded, fun, flirty brand like W Hotels we are very optimistic that this party will be a catalyst for many hook-ups and love connections."
"We're looking forward to joining SingleAndTheCity in a night of fun and flirtation that will hopefully lead to some new Valentine's Day plans for those who attend," notes Anna MacDiarmid, General Manager of W Hoboken. "I can't think of better place than W Hoboken to make a love connection."
A limited number of tickets (150 for men, 150 for women) will be available for purchase exclusively on SingleAndTheCity.Com and OnSpeedDating.Com starting Wednesday, January 26th for $20.00 each. Tickets will be $30.00 at the door the day of the event if space is available. The first fifty singles to arrive for the party will receive a swag bag featuring give-away's from Bliss, 2 Chicks With Chocolate, Sweet Breath, Jaira's Waxing Salon and more.
This Pre-Valentine's Day Singles Mixer boasts dating games, drink specials, delectable chocolate goodness provided by winning Top 10 Chocolatier, 2 Chicks with Chocolate, dancing, mingling, love games including ice breakers designed to be a catalyst for conversation, sponsor provided Sweetbreath to ensure singles breathe friendly throughout the night, "Love & Sex" tarot card readings where singles can learn about their relationship 'past, present and future' via renowned psychic Maria Pirone, mini decks of Cheek'd cards & a month's free membership to Cheekd.Com (the reverse engineered dating site). Feuza Reis Photography will also be on hand to capture all of the behind-the-scenes action.
Singles will also have the chance to win prizes and give-aways all-night including spa and salon services from DevaChan Salon, DevaSpa, Cutler Salon and Bliss Spa. Broadway tickets to see Tony® Award winners Nathan Lane and Bebe Neuwirth as Gomez and Morticia in The Addams Family - A New Musical Comedy, restaurant gift certificates and more. Sounds like the perfect fun party for adults who are unattached and want to maybe get attached…at least for the night.
For an additional $15.00, the first 100 singles that register will also have the option to participate in speed dating sessions. At 7:00-8:00pm there will be a session for singles ages (21-35) and from 8:15-9:15pm singles 35-48 will get their opportunity to go on 15-20 "dates" for a whopping three minutes each.
W Hoboken is located at 225 River Street in Hoboken, New Jersey, just 3 blocks from the PATH station and also accessible via ferry and NJ Transit Bus.
SingleAndTheCity.com (SATC) is a new dating event concept created for savvy, swinging, city-dwelling singles who are tired of events geared to traditional criteria, like age range, income and personality IQ. What sets SingleAndTheCity.com apart is its ability to foster personal connections: Events match participants with other singles who share similar interests, backgrounds, quirks–even fetishes–and a passion for meeting new people and having fun. This online company produces singles parties, networking events, speed dating, wine tastings, dating advice and much more for singles of all orientations across Manhattan and the five boroughs.
OnSpeedDating.Com: OnSpeedDating.com (OSD) is an entirely new breed of speed dating. Delivering quality and quantity, the service offers NYC singles niche events themed around dating deal breakers as well as quirks and physical preferences like "Hot for Teacher", "Date a Democrat", "Gentlemen Prefer Blondes", "Inked" for tattooed singles, "Non-Practicing Jew" night, "Have Passport, Will Travel", "Mr. Right Now", "Size Matters" for guys and gals with a hankering for height and "Wing Women" for women seeking a partner in crime when they hit the dating scene. With the promise of at least 10-25 'dates' per event, singles are sure to have their pick of matches. Admission fees range from $30 to $40 per event.
About W Hotels Worldwide®
W Hotels is an innovative, contemporary, design-led lifestyle brand and the hotel category buster with 36 hotels and retreats in the most vibrant cities and exotic destinations around the world. Inspiring, iconic, innovative and influential, W Hotels provides the ultimate in insider access to a world of "Wow." Each hotel offers a unique mix of innovative design and passions around fashion, music and entertainment. W Hotels offers a holistic lifestyle experience that is integrated into the brand's sensibility through contemporary restaurant concepts, glamorous nightlife experiences, stylish retail concepts and signature spas. With more than 10 years of proven success, W Hotels is on track to more than double its footprint by 2011. W Hotels and W Retreats have been announced for London, Paris, St. Petersburg, Guangzhou, Shanghai, Bali, Vieques Island, Koh Samui, and Verbier, among other international destinations. For more information, visit Whotels.com.
CONTACT: Amber Soletti PR Contact / SingleAndTheCity
P) 917.558.3033 amber(at)singleandthecity(dot)com
CONTACT: W Hoboken PR Contact / George Cahn
President CAHN Communications
P) 201-876-3100 gcahn(at)cahncomm(dot)com
Contact: Sean Schrecengost PR Contact/ 2 Chicks With Chocolate
P) 201.281.7125 fortheperfectday(at)gmail(dot)com
# # #