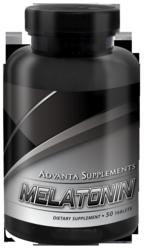 The customer feedback on our new melatonin has been phenomenal
Adel, IA (PRWEB) March 21, 2013
People who have trouble sleeping, or who suffer from chronic insomnia, take sleep aids for one reason - to wake up restored. Advanta Supplements developed
natural sleep aid, Melatonin, with this focus in mind. The company created a sub-lingual product that dissolves under the tongue and hits the bloodstream almost instantly. This induces a relaxing state that leads to sound sleep within minutes.
Melatonin, referred to as the hormone of darkness, regulates the sleep-wake cycle by causing drowsiness and by lowering the body's temperature. Humans produce melatonin naturally, secreting it from the pineal gland primarily when light is absent. However, shift work, aging, and other factors can reduce its production, causing insomnia and the related health problems that result from a lack of rest. An effective supplement counters this by restoring healthy sleep.
"The customer feedback on our new melatonin has been phenomenal," said Steven Vegors, VP of customer service. "Our sub-lingual product is helping insomniacs get the rest they need."
One customer bought the product for her husband who suffered from sleep deprivation and couldn't find a supplement that left him fully recharged in the morning. "They kick in faster than other pills he's tried," she said. "And they last long enough to get him into a restful sleep. He doesn't feel the hangover effect when he wakes up either, like with most other pills."
As a natural supplement, Melatonin offers other benefits in addition to aiding sleep. Because it easily crosses cell membranes and the blood-brain barrier, it is highly regarded as an effective antioxidant and anti-aging hormone.
Adults seeking to end nighttime restlessness and hours of tossing and turning, who desire to wake up fully restored from full night's sleep, can visit Amazon and enjoy a 47% savings on a bottle of 50 tablets ($9.18 off the list price of $19.67). They can also take advantage of Advanta Supplements' special: Buy 2 – Get One Free at
http://www.amazon.com/Melatonin-All-Natural-Sleep-Aid-Fall-Asleep-Fast/dp/B0079KN7XG.
Located in the heart of Iowa, Advanta Supplements partners with FDA-approved labs to develop, test, and manufacture a line of quality vitamins and nutritional supplements. All Advanta products are made in the U.S. and backed by a complete customer satisfaction guarantee.
Learn more at http://www.advantasupplements.com.