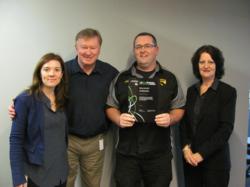 Our clients love the flexibility of being able to shop for tyres online whenever they want - they are not restricted to our traditional business hours
(PRWEB) July 19, 2012
Melbourne radio station 3AW has just announced Mobile Tyre Service as the July 2012 recipient of its Momentum Small Business Success Story Award. The Award recognises the innovative approach to business delivered through MobileTyreService.com.au.
"We have made the process of choosing, purchasing and fitting tyres so easy" says Travis Osborne, CEO of Mobile Tyre Shop. "Our clients love the flexibility of being able to shop for tyres online whenever they want - they are not restricted to our traditional business hours. In effect, this means that we are open 24 hours a day, 7 days a week."
The service is not, however, limited to those wanting to buy tyres online, Mr Osborne explains. "Our staff are available during regular working hours to deliver personal, informed advice to our clients who are unsure of which is the best tyre for their vehicle."
Regardless of whether the choice of tyre is made online or over the phone, Mobile Tyre Shop will come to their customers to deliver and fit the tyres. It is this innovative, service-focused, business strategy that has secured them 3AW Momentum Small Business Success Story Award for the business.
"Not only do we deliver the tyres to our clients - at their home, work or carpark - but we also have the equipment on board our vans that enable us to provided free computerised wheel balancing and free new tyre valves and weights" explained Mr Osborne. "We even dispose of the old tyres in an environmentally friendly way."
Low Overheads Mean Customer Savings
Such personal service, at very competitive rates, is made possible because Mobile Tyre Service does not have the financial burden of rent and overheads of the more old fashioned, traditional, tyre outlets have.
"Our technicians are experts and our vans superbly equipped with the equipment needed to fit, rotate, balance and align tyres" said Mr Osborne. "For those wanting to include wheel alignment, the whole process takes around 90 minutes - and the travelling time is on us!"
The 3AW Momentum Small Business Success Story Award was presented to Mr Osborne in the 3AW studios by The Minister for Small Business, Louise Asher.
More information about this innovative service can be found at MobileTyreShop.com.au
About the 3AW Momentum Small Business Award
Momentum and 3AW supports small business innovation and success through the Small Business Success Story Awards. The awards recognise the exciting and sometimes challenging lives of small business owners, and includes prizes designed to aid further development and reward their hard work.
The Minister for Small Business, Louise Asher presents the monthly awards live on 3AW Afternoons with Denis Walter. This offers the winning business the opportunity to maximise their exposure to the community through the 3AW listening audience.
About MobileTyreShop.com.au
The Mobile Tyre Shop was created to meet the needs of customers who enjoy the flexibility of shopping online, 24/7, and having the tyres delivered and fitted at their home or place of work. Its online tyre selector helps customers to find the right tyres for their car: searching by tyre size, vehicle type or Brand to see all options that are available.
If clarification is needed, the MobileTyreShop.com.au team is available during office hours to answer phone or email enquiries.
After tyres have been selected, the customer provides details of where the fitting is required to take place - home office, multi-storey car park - even shopping centre car parks!
For more information visit MobileTyreShop.com.au