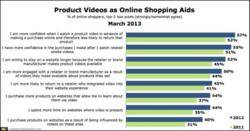 This is reality, it's how businesses will build relationships with their customers. It's no longer face to face, it's online with web video.
Melbourne, Australia (PRWEB) March 31, 2013
In the last quarter of 2012, ecommerce consultants Invodo commissioned a study where the results show 57% of buyers are more confident making a purchase online if a web video of the product is present. Long time video production expert and owner of Melbourne Video Production David Jenyns responded to the study saying "Although great, web videos go beyond just providing a 360 view of a product. For internet-based business, online video is truly the only way to start, develop and maintain relationships with your clients."
The world of business has come a long way over the past century. The era of buying and selling in a physical space with face-to-face communication is now replaced with solitary decision-making via small electronic devices. As online shopping picks up pace, human interaction in the marketplace is dwindling, making developing customer relationships and loyalty a real challenge for business.
Until web video came along, website owners had no way to replicate the natural connection that personal interaction creates. Web video expert David remarks, "Up to now, online businesses were extremely limited in how they presented their products and themselves, which made shopping online a real cold, unfriendly environment."
The recent Invodo study showed that online buyers gain significant purchasing confidence when they see a web video of the product first. Although impressed with the statistics, David asserts that "web videos do more than just display products for better view. Web video is the only way online businesses can show who they really are as people."
The video expert continues, "Of course buyer conversion is important and videos clearly increase the chances for a browser to become a buyer, but don't just use this amazing tool as a menu for items. Use it as a way to connect with customers – it will gain your business loyalty as your clients get to know you."
Being a long-time contributor to the internet marketing and web video industry David says, "Over the years, I've watched the popularity of online businesses grow and all along I could see they'd eventually become capped by their inability to effectively connect with their consumers."
The video marketing expert says that other than influencing the purchase of products online, "Web video unleashes so much potential for an online business, from product views to relationship building to search engine optimisation."
David's company Melbourne Video Production provides web video packages to a wide array of businesses ranging from professional services to ecommerce stores. He sites the more popular packages being company history, testimonial, and frequently asked questions. "This is reality, it's how businesses will build relationships with their customers. It's no longer face to face, it's online with web video."
David closes by saying, "It shouldn't take a study to prove that web video is the way forward, but now with that impressive report out, businesses who aren't using web video need to make that step or be left behind." To learn more about Melbourne Video Production's web video packages and hire products, visit http://www.melbournevideoproduction.com.au/.
About Melbourne Video Production
Melbourne Video Production is a division of MelbourneSEOServices.com, a full service search engine optimization (SEO) consultancy, based in Australia, but with a worldwide client base.
Melbourne Video Production has the unique ability to combine their web video expertise with strategic SEO practices from Melbourne SEO.
Director, David Jenyns, has, over several years, built a team of experts who are niche experts to support the business, and who share his ethos for ethical, professional internet marketing and web video.