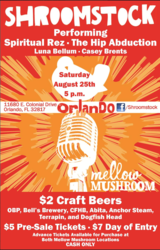 Shroomstock, a one day festival at the Mellow Mushroom in Orlando, Florida, is designed to show appreciation to our customers for their loyalty
Orlando, Florida (PRWEB) August 20, 2012
"Shroomstock, a one day festival at the Mellow Mushroom in Orlando, Florida, is designed to show appreciation to our customers for their loyalty," explains Stacey and Chuck Votey, owners of the Mellow Mushroom Orlando and Winterpark locations.
Saturday, August 25th, at 5 pm, is when the Shroomstock excitement begins. In addition to the large space of restaurant seating for over 250, Mellow will have an additional fenced off area to accommodate increased capacity of up to 750 people for this special event. For only $5 in advance or $7 at the door, cash only, this event promises to be a great time for a little fee.
Shroomstock includes many Exciting opportunities:
Food: Experience the one and only Mellow Mushroom Bake Bus. Fresh baked pizza slices for $3, jammin' grooves and pizza-tossing pros; this Mellow Mushroom on wheels is something you do not want to miss!
Music: Enjoy the sound of homegrown and local bands beginning with Casey Brents at 5 p.m., followed by Luna Bellum, The Hip Abduction from St. Pete and the Shroomstock headliners, Spiritual Rex, who originated from Orlando, Florida.
Beer: Shroomstock will feature several craft beers from brewers from our region and beyond, including Anchor Steam, Terrapin, Holy Mackerel, Bell's, Orange Blossom Pilsner, Dogfish Head and Abita breweries. Guests can purchase a 12 oz. beer from these featured breweries for only $2 each. And for those looking to learn a thing or two about beer, the Central Florida Homebrewers Association will be demonstrating the art of brewing beer.
To be a part of this exciting festival, come down to the Mellow Mushroom located at 11680 East Colonial Drive, Saturday, August 25, at 5 p.m. For more information on Mellow Mushroom Orlando contact us at (407) 384-4455, visit us at http://www.mellowmushroom.com/orlando, or follow us on Facebook at http://www.facebook.com/shroomstock and on Twitter at hashtag #melloworlando.
###
About Mellow Mushroom Pizza Bakers
Mellow Mushroom Pizza Bakers (http://www.mellowmushroom.com) was founded in 1974 in Atlanta, Georgia. This franchise, operated under Home-Grown Industries of Georgia, Inc., is headquartered in Atlanta, Georgia. For 37 years, Mellow Mushroom Pizza Bakers has been serving up fresh stone baked pizzas to-order in an eclectic, art-filled and family-friendly environment. Each Mellow is locally-owned and operated with a unique feel focused around great customer service and high quality food.