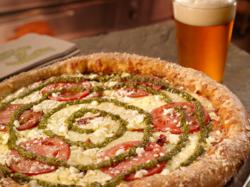 Spring is a community full of life. Great families, businesses, schools, churches, neighborhoods and more, which is why we knew Mellow Mushroom was a great fit for the area
Spring, Texas (PRWEB) September 14, 2012
Mellow Mushroom Pizza Bakers is proud to announce their newest opening in Spring, Texas, located at 16000 Stuebner Airline Road at the intersection of Cypresswood Drive and Stuebner Airline Road, on Monday, September 17.
The owners of this location, Todd and Kathy Molyneux, talk excitedly about bringing Mellow Mushroom Pizza Bakers to Spring: "Spring is a community full of life. Great families, businesses, schools, churches, neighborhoods and more, which is why we knew Mellow Mushroom was a great fit for the area."
The menu features a variety of pizzas, hoagies, salads, calzones and appetizers. Options for vegetarians, vegans, kids and those on a gluten-free plan are also available.
Mellow Mushroom focuses on local ownership and operation, believing that to be the best way to serve the customer and the local community and at the same time convey the culture of the brand. As part of this philosophy, every Mellow location hatches with a completely unique look and feel.
Continuing Mellow Mushroom's belief in creativity and the importance of the local art community, Mellow has enlisted the help of 3 talented artists from the Houston scene to re-create a theme based around Led Zeppelin and the Goodyear Blimp, which had its home in Spring, Texas, for so long.

Katharine Kearns, aka Katsola and a member of the much loved "Sketchy Neighbors," is creating seven colorful and playful trading card inspired pieces.
Daniel Anguilu, whose work is deeply entrenched in the streets of Houston and who is seen locally by many as an inspiration will be covering the walls with his free flow style.
Mark Bradford aka "Scrapdaddy" creates a gigantic overhead blimp scene as a tribute to what was once a community icon.
Suiting any diner's needs, this Mellow has plenty of seats and includes a covered patio. This location also features a full service bar with a wide array of liquor, craft beer and wine options. Join the Mellow Mushroom Beer club and make your way through 36 drafts and an endless variety of bottled beer, while receiving member-only rewards along the way. Throughout the week, you can catch trivia nights, live music, bingo, karaoke events, sporting events including college and pro sports and much more.
Mellow Mushroom will operate 7 days a week Monday – Sunday 11 a.m. to midnight. For more information on Mellow Spring, visit http://www.mellowmushroom.com/spring and follow us on Facebook at https://www.facebook.com/mellowmushroomspring.
About Mellow Mushroom Pizza Bakers
Mellow Mushroom Pizza Bakers (http://www.mellowmushroom.com) was founded in 1974 in Atlanta, Georgia. This franchise, operated under Home-Grown Industries of Georgia, Inc., is headquartered in Atlanta, Georgia. For 39 years, Mellow Mushroom Pizza Bakers has been serving up fresh stone baked pizzas to-order in an eclectic, art-filled and family-friendly environment. Each Mellow is locally-owned and operated with a unique feel focused around great customer service and high quality food. For more information on Mellow Mushroom Pizza Bakers like us on Facebook at facebook.com/mellowmushroomHQ, follow us on Twitter at twitter.com/MellowMushroom and follow us on Pinterest at pinterest.com/mellowmushroom.