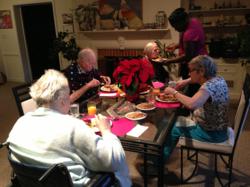 Potomac, Maryland (PRWEB) April 30, 2013
Potomac Seniors Village, an assisted living Bethesda facility, is excited to announce a new membership into a large network of local groups. The senior care Maryland center will be hosting and participating in several local groups which are comprised of people from the community who come together as a result of a common interest or goal. Potomac Seniors Village is excited to participate in this network as a way to get involved in the community, spread knowledge and provide comfort and support.
Thousands of meetings of local groups occur every day which allow people to share their thoughts and feelings. The purposes of the meetings range from new parents to professionals looking to share their knowledge. Meetings can also be set up for those who are interested in certain sport, hobby or recreational activity. In addition, those who want to meet others who are of the same race and ethnicity can also arrange and participate in meetings. Many support groups also participate in arranging these meetings. Many individuals who need help or are struggling with a loss can participate in these meetings.
Meetings can be held several times a week or month. Anyone who wants to host a meeting can register through an online system. For those who want to participate in meetings, they can create a search or scroll through a list of meetings and make a selection. There are thousands of meetings to choose from with various topics. Some examples of upcoming meetings are embassy events for young professionals, age 60+ recovery support group, make-a-friend group, outdoor activities group and many more.
Meetings are a great way for people to come together and share their ideas and feelings. Everyone can work together to advance towards an improvement or something new. The most important aspects of these meetings are that they encourage togetherness, comfort and support. Everyone works together to help one another. New friendships and bonds develop, which in turn create relationships that last a lifetime. No matter what the cause, participants can share their personal experiences and knowledge with others and work towards the important goal.
Potomac Seniors Village is planning to host several meetings at the assisted living Bethesda facility. Topics for discussion will include caring for loved ones with Alzheimer's/Dementia, aging in place, and many more. The meetings will include introductions, ice-breaker activities and food. Members can share their experiences with others and provide comfort and support. Interested persons who have a topic for discussion are encouraged to email the assisted living center at info(at)potomacseniorsvillage(dot)com.