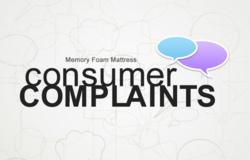 Tempe, AZ (PRWEB) March 04, 2013
As the memory foam mattress category continues growing in popularity, more and more people turn to the internet to learn about the material. The industry's latest blog, MemoryFoamMattress-Guide.org provide this and more, featuring buying guides and educational information related specifically to memory foam mattresses.
Often, people want to know how to get the best value when purchasing a new mattress, what the different features and details mean, or how to tell if a memory foam mattress would be the best option for their needs. In addition to helpful guides and how to articles meant to address these concerns, Memory Foam Mattress Guide will compare brands, detail industry news, and offer insider tips.
At press time, three articles offer a glimpse into the website's subject matter. The maiden post, "Consumers' Top Memory Foam Mattress Complaints," takes a look at the most common complaints or rumored issues with this type of bed. Rather than assess the category as a whole, the blog compares the technology of traditional brands like Tempur-pedic, gel-infused lines like Serta iComfort and plant-based memory foam from Amerisleep.com.
The other two posts include a guide explaining the different memory foam types and a how-to article on assessing the compatibility of memory foam and adjustable beds. Upcoming posts will involve more how-to style pieces, detailed explanations of features, brand comparisons, industry news and much more. Interested readers will be able to subscribe via RSS to receive instant updates.
MemoryFoamMattress-Guide.org offers detailed resources, geared towards people looking to buy or research a new bed. A fresh and easy-to-navigate blog format presents articles organized by topic and date, in addition to offering social tools and subscription feeds. From buying guides to brand information and news, readers can find unbiased information designed to create educated buyers.