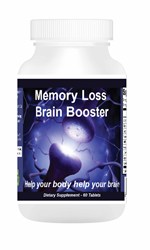 Memory Loss Brain Booster is truly unique in that it delivers nine key memory-boosting compounds at once.
Adel, IA (PRWEB) March 06, 2013
Men and women looking for a powerful new way to improve their memory, brain function and brain health – and in the process, prevent memory loss that can typically occurs as the body ages – can now purchase the new Memory Loss Brain Booster from BrainGenX.
Memory Loss Brain Booster is made from a unique, patent-pending combination of nine compounds that have been shown to support brain and memory function:

DMAE (Dimethylaminoethanol): Increases mental alertness and focus
DHA (Docosahexaenoic acid): Supports brain development and protects neurological function
Korean Ginseng Root: Aids nitric oxide production that supports blood vessel dilation
Ginkgo Biloba: Improves the speed of working memory and the accuracy of executive processing
L-Glutamine: Stimulates mental alertness, improves intelligence, normalizes physical equilibrium, detoxifies ammonia from the brain
Bacopa Extract: Delivers strong antioxidant properties that prevent the damage caused by free radicals
Phosphatidylserine(PS): Enhances learning and memory, and the ability to learn and recall names, faces and numbers
Vinpocetine: Support concentration and memory by activating cerebral metabolism
Huperzine (HupA): Improves cognitive and memory function
"Memory Loss Brain Booster is truly unique in that it delivers nine key memory-boosting compounds at once," commented a spokesperson from BrainGenX. "Scientists, physicians, and clinical studies have determined that the brain must have these essential compounds in order to rejuvenate restore, boost, and actually enhance brain function, memory, and overall mood – and may help keep dementia and Alzheimer's disease at bay. In our tests so far, people who have taken two tablets of Memory Loss Brain Booster per day have reported better memory and recall ability in as little as four to six weeks. They've also reported sharper focus and a greater sense of well being."
Memory Loss Brain Booster is available for purchase now from
http://www.amazon.com/Memory-Loss/dp/B006UUD5DI. It is currently selling for $22.95 a bottle, which is 62% off the list price of $59.83.
About BrainGenX
BrainGenX is committed to delivering quality products that support health and well-being naturally. All of the company's products are made in the USA, and in FDA-certified and Inspected manufacturing facilities. Learn more at braingenx.com.
The statements made in this press release have not been evaluated by the FDA (U.S. Food & Drug Administration). Memory Loss Brain Booster is not intended to diagnose, treat, cure or prevent any disease.