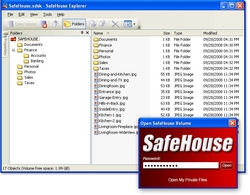 With SafeHouse Explorer, you'll be able to access your protected files from anywhere, any time, from any computer - just click.
Oak Park, CA (PRWEB) February 2, 2009
PC Dynamics, Inc., is pleased to announce the public preview release of SafeHouse Explorer, the newest member of its award-winning SafeHouse family of PC privacy and encryption products.
SafeHouse Explorer is free encryption software designed for USB memory sticks. Keeping files safe and secure is now easier than ever using SafeHouse Explorer's simple drag and drop user interface. "It's a lot like Windows Explorer with three extra buttons," said Peter Avritch, president of PC Dynamics and publisher of the privacy software. "The only difference being that SafeHouse Explorer uses passwords and strong encryption to protect your files."
Even more impressive than SafeHouse Explorer's sheer simplicity is that it can be run directly from memory sticks without needing to be installed. Copy the small 5MB program file to any memory stick and you'll always have instant access to all of your encrypted files. "Now your files are both portable and safe" claimed Avritch. "With SafeHouse Explorer, you'll be able to access your protected files from anywhere, any time, from any computer - just click."
Another key feature of SafeHouse Explorer is that its files are 100% compatible with the entire suite of SafeHouse family privacy software, including SafeHouse Professional Edition, PC Dynamics' popular desktop security software for Windows PCs. "The tight integration between SafeHouse Professional and SafeHouse Explorer makes it incredibly easy and convenient to keep all of your files safe and secure, no matter where they're located, or where you're located," said Avritch. "Many of us find ourselves using more than one computer on a regular basis, and it's important to have a privacy solution which can follow us wherever we go. SafeHouse does just that."
SafeHouse family products work by creating large storage vaults to hold your confidential files. These vaults can only be opened up using a secret password or smartcard, but once they're open, they appear as new disk drive letters in Windows, making them completely compatible with all of your favorite Windows applications. You can create an unlimited number of vaults which range in size from a few megabytes to 2,000 gigabytes (2TB).
Full product information, free download and video tutorials are available on the web at Memory Stick Encryption.
About PC Dynamics, Inc.:
Headquartered in Oak Park, California, PC Dynamics has developed trusted hard drive encryption and other software products for more than 20 years. Its core product is the SafeHouse data privacy and protection software which is in widespread use in companies of all sizes throughout the world.
For more information about PC Dynamics and SafeHouse Explorer, please visit our website.
###