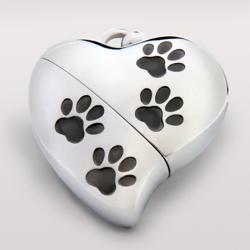 I have a Memory Vessel and I cherish it.
Denver, CO (PRWEB) February 06, 2013
Memory Vessels, a company that combines flawless design and brings a whole new meaning of sentiment to traditional keepsakes, will be at the Valentine's event to offer those starting out with a new companion the ability to store memories that last a lifetime in a whole new way. Unlike traditional keepsakes that offer emotional sentiment alone, the Memory Vessel http://memoryvessels.com design allows the wearer to store a small item as well as digital files, such as photos or videos, to an internal USB flash drive.
"Events like My Furry Valentine bring together like-minded people who know our pets as part of the family and want to share our love in special ways," says Memory Vessels creator and owner Toni Noel. "Memory Vessels let us carry and share photos and videos along with special mementos of our pets. "
This furry event will feature The Dumb Friends League as the main, non-profit animal charity and will be co-sponsored by Paws & Read Magazine. Those attending the event will not only have the opportunity to meet some of the most adorable furry friends in the area, but also have the chance to sit in on pet training sessions, discover pet-related services and unique products, such as Memory Vessels' uniquely designed jewelry that doubles as a keepsake for the digital generation.
"What better way to show and share your love for your pet than with a Valentine's party? There are always interesting, fun and unique ideas and products at these gatherings," says Noel.
The Broken Heart collection from Memory Vessels is a beautifully crafted keepsake that provides an internal storage space for a small personal item from a lost loved one, as well as a compact flash drive that can hold all forms of digital files from photos, to voice recordings, to video.
The internal flash drive gives owners a place to grow and store a full library of moments they have shared with their furry loved one over the course of their time together.
"Memory Vessels are the only keepsakes that provide storage for meaningful physical mementos, along with photos, videos and voice recordings of our loved ones, be they people or pets," says Noel. "I hope my inspirations help to capture life's greatest moments with our loved ones so that they can be cherished forever."
Come join us from 10:00 AM until 4:00 PM to enjoy several rounds of special events and demonstrations.