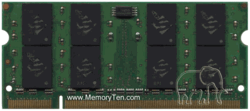 Memoryten try to serve their clients with the most efficient, technically enhanced and economical solutions to their
CA, USA (PRWEB) March 02, 2013
MemoryTen has introduced a new memory module for a new machine with model number "4GB 200-pin PC2-6400 CL6 8c 2x256x8 DDR2-800 SODIMM". The memory module unpacks an exciting combination of some of the most unique and sought after memory module specifications, with an efficient and cost-effective approach. This 200 pin memory module has a storage size of 4 GB. The module possesses a PC2-6400 DDR2-800 speed, which offers it an additional edge over the others. Also, it has a CL6 type CAS Latency and can be accommodated with ease as it has a normal height. This non ECC, non-registered memory module with a SODIMM form factor has a CKP 3LC. This memory module comes along with a 14-day money back guarantee. The memory module may be manufactured by Infineon, Samsung, Micron or Gigaram.
MemoryTen has been accredited to have The Earth's Largest Shopping Store, which specializes in designing and fabricating memory modules for various machines. Also, the online store puts forth a display of a wide variety of computer hardware, peripherals and other accessories, along with its memory modules. MemoryTen has launched itself high, among the leading players of the industry, with its unparalleled quality of products and unbeatably low price tags.
According the CEO, "MemoryTen understand the value of every precious penny and second, that Memoryten's customers are investing upon them every day; in return, Memoryten try to serve their clients with the most efficient, technically enhanced and economical solutions to their day-to-day needs".
The MemoryTen Website hosts a number of unique features that can assist even amateurs, to access and choose the most appropriate upgrades and accessories for their machine. "Scan My Computer" option is also available. Clicking on this option, one can easily know the existing configurations of the computer and a personalized report is generated within no time. The report also suggests various upgrade options available to boost the performance of the computer. MemoryTen provides a lifetime exchange and repair warranty on all its products. The "14 day money-back" option is also available, wherein a customer may choose to return the product within 14 days of purchase for a full refund (minus shipping and handling charges), provided the product is returned in original condition, without any damage or tampering. The easy "shopping cart" and "24 hour technical support" facilities further make shopping a less cumbersome experience for even the first-timers.
About MemoryTen
MemoryTen was started in the year 1995. Within a short duration of almost 18 years, the company has earned itself a priceless reputation, owing to the unparalleled quality products and competitively low prices. MemoryTen specializes in providing, designing and fabricating memory modules for Sun, Apple and other proprietary machines. MemoryTen provides a lifetime free technical support facility on all its products. Also, the company assures a lifetime exchange and repair on all its products, in case of a manufacturing defect.
For more details, visit: http://www.memoryx.com/ckp.html
Contact Details:
MemoryTen, Inc.
2800 Bowers Ave,
Santa Clara,
CA, 95051
United States
Phone: 408-588-0077
http://www.memoryx.com/