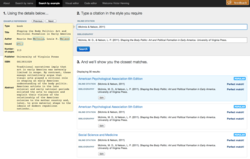 Dr. Victor Henning, CEO & Co-Founder of Mendeley explained: "Our users will contribute citation styles to an open repository, where they can be re-used by others academics who will then have more time to focus on what really matters: their research."
London, UK / New York, NY (PRWEB UK) 4 December 2012
Most academic journals insist that papers submitted to them conform to the journal's own, idiosyncratic style of citing research. This has led to a proliferation of thousands of different citation styles, often with only minuscule differences in the placement of commas, or the use of quotation marks and italics. To support their users in this arduous task, modern reference management tools like Mendeley ship with 2789 different citation styles which can be used when formatting a bibliography in Word or Open Office.
It turns out that 2789 was still not enough: Being able to edit and create new citation styles easily was the top-ranked feature request by a wide margin on Mendeley's user feedback board. Users frequently lamented that the one particular style they needed was not covered, or that they were unable to switch from tools such as EndNote or RefWorks as long as a particular style was lacking. The citation styles in EndNote or RefWorks are built in a closed, proprietary format, which prevents their re-use in other referencing tools. In response, scholars have created the open source CSL (Citation Style Language) standard, which has since been implemented in tools like Mendeley, Zotero, Papers, Docear, and Qiqqa.
The main drawback of CSL styles, however, was that editing them required a knowledge of XML code, making it impossible for most researchers to adapt citation styles to their needs. Mendeley's new WYSIWYG citation style editor (http://csl.mendeley.com/) allows anyone to click on any element of a citation they would like to change, and then format the output with a few simple clicks. The output is saved in CSL-standard compliant XML and can thus be used in any other reference management tool. If a researcher does not know the name of the citation style they need, they can simply type in an example, and the Mendeley CSL Editor will suggest matching citation styles.
Mendeley's global community of 2 million academics have collectively uploaded more than 300 million research documents to the platform, making it one of the world's largest academic databases. Now, Mendeley will apply the same principle of crowdsourcing to citation styles. "Our goal has always been to make research workflows easier." Dr. Victor Henning, CEO & Co-Founder of Mendeley explained. "Our users will contribute citation styles to an open repository, where they can be re-used by others academics who will then have more time to focus on what really matters: their research."
Jeffrey Lancaster, Emerging Technologies Coordinator at Columbia University Libraries, added: "Developing the CSL editor with Mendeley provided Columbia University Libraries an opportunity to meet a need held by many researchers across many diverse disciplines. Engaging with highly skilled Mendeley developers and the open-source community enabled us to successfully achieve a common goal that contributes to an ever-growing set of tools available for the research process; this model of collaboration will no doubt find many other problems to solve as technology continues to improve the academic research workflow."
Mendeley has open-sourced the code of the CSL Editor under the MIT license: https://github.com/citation-style-editor.
-ENDS-
Screenshots of the CSL Editor: http://www.flickr.com/photos/mendeley/sets/72157632125912468/; Mendeley press photos: http://www.flickr.com/photos/mendeley/sets/72157630652171616/
About Mendeley:
Mendeley (http://www.mendeley.com) is a global research collaboration platform and academic database. Mendeley's desktop, mobile and web applications help people to organize, share, and discover new research. Since its launch in 2009, Mendeley has grown to 2 million users, who have collectively uploaded more than 300 million documents. The Mendeley API (http://dev.mendeley.com) powers more than 260 exciting new third-party applications that are making science more social and open. Mendeley is based in London and New York.
About Columbia University Libraries/Information Services:
Columbia University Libraries/Information Services is one of the top five academic research library systems in North America. The collections include over 11 million volumes, over 150,000 journals and serials, as well as extensive electronic resources, manuscripts, rare books, microforms, maps, and graphic and audio-visual materials. The services and collections are organized into 22 libraries and various academic technology centers. The Libraries employs more than 500 professional and support staff. The website of the Libraries is the gateway to its services and resources: http://library.columbia.edu.
For more information, contact:
Dr. Victor Henning, CEO / Co-Founder, Mendeley
victor[dot]henning[at]mendeley[dot]com, +44 20 7617 7519