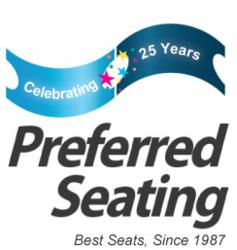 "The most popular seats for the Final Four are the cheapest ones", says Greg Cullen of Preferred Seating. "The experience of just being there is enough for many fans."
Sacramento, CA (PRWEB) March 29, 2013
The Georgia Dome is a big place for a basketball game and fans looking to buy 2013 NCAA Men's Final Four tickets are asking a lot of questions about the views from the seats. Preferred Seating Tickets has been advising fans where the best seats are for college basketball games for over 25 years and they've got a few tips to help them make a decision on where to sit.
The NCAA Men's Final Four was at the Georgia Dome back in 2007 when Florida beat Ohio State so the management there has plenty of experience in handling the biggest college basketball event of the year. To get fans closer to the action and make it feel more like a basketball arena they have had 8,000 seats in the lower level removed and risers have been put in to slope the seating much closer to the court. The seats with the best view will be in between the baskets in the lower level and they'll also be the most expensive of the 74,000 seats that are expected to be filled.
Staying between the baskets is important at the Georgia Dome because the further you get away from the court the harder it is to make out the plays from the ends behind the baskets. Too many bodies and not enough spacing will have the fans whipping out the binoculars in minutes so they don't miss a thing. But for those looking to save a few bucks after all of the travel expenses they can still see the game and feel the excitement from any seat in the stadium. "The most popular seats for the Final Four are the cheapest ones", says Greg Cullen of Preferred Seating. "The experience of just being there is enough for many fans."
One of the bonuses of having the NCAA Men's Final Four at the Georgia Dome for golf fans will be the chance to take in a practice round at the 2013 Masters over at Augusta National Golf Club early in the day, and then the Final Four championship game later that evening. For a true sports nut it doesn't get any better than that.
Preferred Seating Tickets is a leading supplier of sports tickets nationwide and are currently celebrating their 25th year in business. They specialize in major sporting events including tickets for the NCAA Men's Final Four.