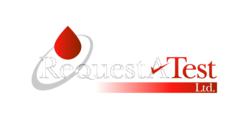 Brecksville, OH (PRWEB) June 03, 2013
With Father's day around the corner, June is an ideal time to focus on all the important men in our lives. For the entire month of June 2013 Request A Test, a national provider of direct to consumer lab testing, is offering 10% off of all tests in the Men's Health category. This discount applies to a variety of testing options which can help to monitor some of the most common health issues that many men face. These tests can be ordered individually or in popular packages like the Men's Health Panel and Know Your Numbers which bundle multiple tests together for additional savings. Just use discount code MEN10 when ordering online or over the phone to take advantage of this savings opportunity. Whether you are getting tested yourself, or ordering a test for someone you care about, Request A Test can help you get the lab testing you need with affordable prices and convenient, friendly service. Anyone can place a testing order without needing a doctor's prescription or approval from an insurance provider. With 1000's of lab locations across the country to choose from, there's no better time to get tested and save.
Making sure to take preventative health measures can go a long way towards avoiding serious health problems. Ordering common men's health lab testing can make people aware of health concerns that can be dealt with through medications or lifestyle changes. One of the largest health concerns for men is heart disease. According to the Center for Disease Control (CDC), heart disease is the leading cause of death for men in the Unites States accounting for 1 in every 4 male deaths. High cholesterol is one of the major contributing factors to heart disease. Ordering a basic lipid panel is a great way for a person to monitor their cholesterol. The CDC estimated that between 70-89% of sudden cardiac events occur in men. A C-Reactive Protein (CRP) High Sensitivity test can be used to measure a person's risk for cardiac events like a heart attack or stroke. Another major health concern for men is cancer, with Prostate Cancer being one of the most common forms to develop in American men. About 1 in 6 men will be diagnosed with Prostate cancer during their lifetime. A Prostate Specific Antigen (PSA) test can be ordered as a screening for Prostate Cancer. Prostate testing is recommended every 2-3 years for men over the age of 50 provided they do not have a family history of prostate cancer. If they do have a family history, testing should begin at the age of 40. Diabetes is also one of the major health concerns that many men face. Nearly 12% of men age 20 or older have diabetes. Tests such as the Hemoglobin A1C and Blood Glucose can assess risk for or help manage diabetes. It is also a good idea for men to check their testosterone levels with a test such as the total testosterone or free testosterone. Maintaining a healthy testosterone level can help avoid a number of health issues. There are a number of other common tests which are typically used as to evaluate general health and screen for potential health concerns such as a complete blood count (CBC), comprehensive metabolic panel (CMP), and complete urinalysis. The most important thing to remember is that getting tested is an important part of monitoring your health. There is no need to wait until a person is experiencing symptoms. In most cases, health problems that are detected sooner are easier to treat.
"This month is a great time to put a special focus on the men in our lives," says Noelle Perez, founder and owner of Request A Test. "We hope this special savings opportunity will remind those gentlemen and the people who care about them that nothing is more important than taking care of their health." Order now through June 30 and use discount code Men10 to save. Go to http://requestatest.com/mens-health-testing to see a complete listing of available Men's Health tests. To place an order or more information about any of the services from Request A Test, simply go to http://www.requestatest.com or call 1-888-732-2348.
About Request A Test
Request A Test is a national lab testing service operating on the edict that knowledge is power. Dedicated to providing outstanding customer service, same-day testing, no hidden fees and an informative, easy to use website, Request A Test is partnered with two of the largest certified laboratories in the country to ensure clients receive affordable and accurate information in a high quality, professional setting.