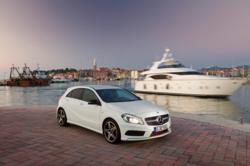 New Mercedes A-Class 2013
Stevenage, Hertfordshire, London, UK (PRWEB UK) 7 March 2013
Consumers will find it easy to enjoy the luxury style of the new A-Class without spending a fortune. With L&L retailers providing a competitive lease hire program, making it easy for people to get behind the wheel of one of these cutting edge vehicles.
The new Mercedes A-Class lease hire is just one of the many advantages of owning an A-Class. The new A-Class comes with an impressive line of features and an extensive model line-up which was confirmed prior to the December launch. The hype that has been following this Mercedes-Benz has not been for nothing – and people are recognising that because of the low cost that is attached to the vehicle.
The Mercedes A-Class images showcase the vehicles sculpted exterior and luxurious interior which is impressive by anyone's standards. Within the new A-Class, consumers will be able to choose from a variety of engines, both petrol and diesel. There is a 180 CDI with low emissions as well as the A250 with an engine capable of 211 bhp. There is also the feature of ECO start/stop to help with fuel efficiency. There is a standard six – speed manual transmission, though there is also the option for a dual clutch automatic transmission.
The model lines include the SE, the Sport, the AMG sport, and engineered by AMG, and come in a total of 11 colours to choose from.
In addition to fabric seats and a comfortable suspension, there is also a significant audio sound system as well as Bluetooth technology. The sporty seats are trimmed with stripes and there is a full electronic panel with Drive Kit Plus which provides drivers with all of the information that they could possibly ask for.
The new Mercedes A-Class has been able to top off some of the features that many are familiar with in the used Mercedes A-Class. Particularly with the engineered by AMG model, consumers will be able to see the exterior differences, such as the diamond grille, red brake callipers, privacy glass, and bi-xenon headlights.
The only way that one can be sure that they are in love with the Mercedes A-Class is to come into a dealership and drive it for themselves. Then one will see why car enthusiasts around the world have been waiting for the release of this stunning Mercedes-Benz hot hatch.
Mercedes-Benz Hertfordshire retailers are found throughout Bishop Stortford, Hertford, and Stevenage. Consumers who are interested in what the new A-Class has to offer and to learn more about the lease hire deals can contact a sales team member for additional information.
END
Author: David Newman from Mercedes-Benz Hertfordshire
About Mercedes-Benz Hertfordshire - L & L Automotive
L&L Automotive is the driving force behind a dynamic retail network aimed at enhancing sales and after sales services for the region's existing and prospective Mercedes-Benz, AMG and smart customers.
Encompassing retail outlets in Bishop's Stortford, Hertford and Stevenage, the group is operated by L&L Automotive – a company boasting a lengthy and successful history.
L&L's Mercedes-Benz businesses moved into Hertfordshire in July 2002, when it was selected as one of Daimler UK's key business partners in establishing a revitalised national retail structure.
L&L Automotive. is a company registered in England and Wales with company number 4415393
VAT No. 794 6047 92
Mercedes-Benz of Stevenage : +44(0)1438 737800
Mercedes-Benz of Bishops Stortford : +44(0)1279 719333
Mercedes-Benz of Hertford : +44(0)1992 514444