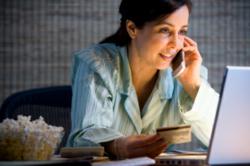 Columbus, OH (PRWEB) September 27, 2012
Running a small car rental company isn't easy. It requires a wide range of skills. It also requires creativity, discipline, vision, financing and a network of car dealers and customers to be successful. One of the things that they also need is access to technology. Merchant Data Systems (MDS) has now come to the aid of those small car rental companies. Merchant Data System has teamed up with Karma Snack and they now serve to give the small rental car companies access to the technology they need to allow them to more easily provide their services to more customers.
One of the things a car rental company needs if it is to reach out to more customers is credit card terminals and a connection to companies which can handle their credit card processing. The ability to take credit cards can make or break a car rental company. Most people don't carry around the large amount of cash it takes to reserve a rental car. For a car rental agency to be successful, they must be able to accept credit cards and a variety of other payment options. With the help of MDS, a small car rental company can get the credit card machines they need to enable them to accept credit cards.
Another way MDS can help the small car rental company is by providing them with a merchant cash advance, should they need it. In fact, MDS can help with merchant processing and provide a wide range of other merchant services. One of the problems many small or new businesses encounter is the inability to get an influx of funds should problems arise. With a merchant cash advance, the small car rental company will be able to take care of their problems, advertise, or offer a wider range of quality vehicles to their customers.
The internet is an incredible marketing tool. It can be used to reach millions of potential customers at the click of a mouse. With the help of MDS, the car rental company can set up an e-commerce website. The e-commerce website can have a shopping cart, be able to accept credit cards and offer a wide range of other services designed to make it easy to rent a car. With the website, the car rental company will extend its reach, cultivate ongoing communications with customers and potential customers, and promote any special offer they may have. Becoming an online merchant will open up a whole new world of potential for success.
MDS can also offer the car rental company owner a number of innovative invoicing solutions they can use with their vendors. They can also help with POS integration, payroll solutions and mobile payment. By using the services MDS offers, the small car rental company will be better positioned to endure the short term pressures most new businesses face. The company will also be able to save time and money by using the technology to which they will gain access. Time and money are two things a new business always needs.
With the help of mobile credit card processing capabilities available through MDS, the car rental company can hold sales events at remote locations and have the ability to either use their credit card machine to do business or direct customers to their e-commerce website. Such flexibility is important when one is growing a business. It can improve a company's profile in their community and give them the freedom to take their business to the people. This type of flexibility can mean the difference between a business struggling to survive and a company that is using creative methods to grow their customer base.
Starting a business of any type can be challenging. Being forced to attain success in a rapidly changing marketplace without the benefit of access to the technology your competition has makes doing business even tougher. MDS can help. They can offer a car rental company access to the technology it needs to level the playing field. They can provide credit card processing capability, a merchant cash advance, invoicing and payroll solutions and a host of other valuable merchant services. These services not only make it easier to rent cars, they are important tools for building any business.
People who own small car rental companies are in luck. Merchant Data Systems teamed with Karma Snack means better access to the latest technology for new businesses. Whether you need an interactive website with a shopping cart, help with merchant processing, the ability to process mobile payments or innovative payment solutions, MDS is there to help. MDS not only helps businesses with today's technology, they also give them access to the new technology being developed. They offer the perfect tools to help car rental companies become successful.