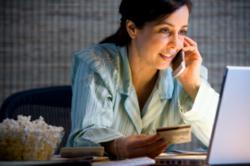 Merchant Data Systems believes in working with their clients. They build committed relationships to help businesses to grow and expand to their fullest potential.
Los Angeles, CA (PRWEB) March 09, 2013
Recently, Merchant Data Systems (MDS) and Karma Snack formed a business relationship to provide new and improved services to doctors and physicians. MDS is an experienced company that specializes in merchant processing for all businesses. Karma Snack is an internet marketing company that has experience with working with every industry. This new relationship allows businesses to perform efficiently and gain more customers.
Medical professionals can benefit from the ability to accept online payments from patients. For this reason, MDS provides e-commerce solutions to provide safe processing of transactions over the Internet. Merchant Data Systems provides a premium Internet payment gateway that supports electronic cash, credit and check payments. Merchants can choose from Virtual Terminal or authenticated PCI-compliant gateway solutions. These machines give businesses a safe way to accept transactions through websites.
The improved services provide efficiency and confidence to the merchant community. Merchants can also choose from Internet based, leased line, broadband and dial-up connections. The internet gateway solution suites come with closed source interfaces, gateway products and commercial software. MDS is a partner in processing and can provide connectivity with most POS devices from any location in the United States. Electronic payments are processed through powerful PCL-DSS authenticated Gateway Solutions.
Credit card processing is a feature that allows companies to process and accept credit cards. MDS offers additional security features to erase the concern about making transactions over the web. The company provides the right tools for a website to accept payments from customers. A shopping cart is one of the tools provided and beneficial on a commercial website. This results in more profits, sales and revenues.
Payroll solutions are essential for a company with employees. It provides clients with an effective and productive method for running payroll. This method allows for processing employee data accurately and securely. Employees' information is kept confidential.
The Internet check acceptance service allows for easily and securely processing check payments online and through a website. The features of the program are TeleCheck Electronic Check Acceptance and TeleCheck Warranty. Both services offer a secure way to accept checks. Merchants can also accept approval in real time. These payment solutions improve operational efficiencies and improve revenues because of low cost integration, quick funding and stronger fraud protection.
MDS stands behind their products and services. They carry top of the line credit card machines and equipment. The company offers lifetime warranties on equipment and hardware. Businesses must stay functional at all times. This allows for providing services at all times and prevents losing customers. A warranty on equipment and hardware allows a company to remain functional when something breaks down. MDS provides the best software and hardware that are supported by warranty programs.
These two powerhouses coming together are going to provide more marketing and payment processing opportunities for companies. The services allows for a company to build success and longevity. Companies can take advantage of mobile credit card processing, credit card terminals, merchant cash advance, merchant processing, merchant services, mobile payment, invoicing solutions and POS Integration.
Adelard Gasana who is the Co-Founder of Karma Snack gave some insight on what current and new clients can look forward to with the relationship between the two companies. "MDS helps businesses to stay competitive by being aware of the latest trends in mobile payment and E-commerce solutions." Gasana goes on to mention, "Merchant Data Systems believes in working with their clients. They build committed relationships to help businesses to grow and expand to their fullest potential."
Doctors and Physicians have to stay competitive and aware of the latest trends. MDS are doing their part by introducing the next generation of payment processing technologies. It is important for businesses to attract customers online and offline. A business website is essential for making a presence and attracting customers. The website has to be built with search engine optimization in mind. Search engine optimization gets the website listed in search engines and attracts customers. A website with traffic can make sales.
Business owners are going to need the right tools to convert the sales, such as shopping carts and payment processing solutions. A variety of payment methods are required for processing the different transactions. Businesses need support financially and with resources.
Karma Shack and MDS understands the needs of businesses that allows for providing support for any enterprise. The programs and resources offered by the companies can be enjoyed by businesses of different sizes. A online merchant partnership of this kind allows for having access to resources that fit the needs for operating a business on an everyday basis.