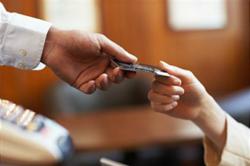 Merchant Data Systems is proud to offer services and packages that are in complete PCI compliance. The safety and security of merchants and their consumers is Merchant Data Systems utmost priority.
Charlotte, NC (PRWEB) March 15, 2013
A leader in merchant services and a leader in the internet marketing industry, Merchant Data Systems (MDS) and Karma Snack, have recently teamed up to provide businesses such as electric, gas, sanitary and water utilities with the latest and best in internet marketing and e-commerce capabilities. MDS has long been a leader in e-commerce. Karma Snack provides internet marketing capabilities such as search engine optimization, generation of leads, web design and general marketing consults aimed at growing business. Additionally, they create press releases, mobile apps and innovative branding for businesses. These capabilities coupled with MDS' excellence in mobile and web commerce offers a powerful solution to new and established businesses.
A new electric or gas utility can be up and running in 30 days. A sewer or water company can have all their business needs met through MDS' comprehensive services including employee payroll solutions, point of sale equipment sales and leasing, invoicing solutions, cash advances and a full menu of merchant services. When it comes to streamlining the entire business process, MDS and Karma Snack offer a fully complementary service package to their clients.
MDS offers a way for a utility to process their employees' payroll information securely and efficiently. Additionally, companies can offer insurance and 401k options by working with the payroll specialists.
Companies in need of extra business capital for payroll, marketing, taxes or the myriad of other business related expenses can utilize the merchant cash advance program offered through MDS. Money for Merchants offers quick credit based on future sales projections. This solution is vital for new startups who may not otherwise have the capital needed to grow their business.
Additionally, companies may find themselves in need of equipment for their business including POS equipment, credit card machines or other miscellaneous computer equipment related to their brick and mortar commerce as well as to their web based stores. MDS offers both equipment lease and equipment finance to its merchants. Some of these options may be attractive to an electric, gas, sewer or water utility who doesn't want to spend a lot of business capital on buying outright the equipment needed to run the business.
Point of Sale equipment sales and leasing, payment processing and merchant cash advances, including credit and debit card processing, are among the services provided. Even if utilities don't need to provide all of the same services as other businesses such as POS integration, MDS can and will provide a unique customized approach to meet the needs of the business's customers and be able to collect payment in a quick and efficient manner. Whether it is electronic check transmission or debit and credit transactions, MDS can handle all the business needs for a fluid transaction. Customers can rest assured that each transaction remains secure.
Merchant processing is made simple with MDS. Online merchants can accept credit cards from all major companies including Visa®, MasterCard®, Discover, American Express® and others. Merchants can securely and process check payments electronically through the TeleCheck® Warranty and TeleCheck Electronic Check Acceptance® (ECA®) services. E-checks are deposited into the Merchant account typically within 2 business days. This highly secure transactions makes checking as safe as a credit transaction. This credit card processing capability is invaluable to any competitive merchant business. Likewise, loaned credit card terminals can enable the POS transactions to simplify the process be they wirelessly at remote locations such as fairs, ballgames or other temporary locations or at standing establishments.
A merchant can offer online store processing through MDS as well. MDS offers more solutions to their customers than any other merchant service provider. This provides a truly customized approach. From the shopping cart to the checkout, MDS provides all of the backend and front end web commerce software needed by their client.
MDS offers high quality mobile solutions including accepting mobile payment through mobile credit card processing. These solutions include technologies which allow the merchant to accept credit card payments through wireless terminals and smartphones. These transactions are secure and PCI-compliant. Merchants who utilize online stores, e-commerce shopping cart systems need to have technologies that pair the most recent advances in technology with consumer usability. MDS offers these solutions to their clients. Adelard Gasana, Co-Founder of Karma Snack and partner with MDS mentions, "Merchant Data Systems is proud to offer services and packages that are in complete PCI compliance. The safety and security of merchants and their consumers is Merchant Data Systems utmost priority."
Any business whether new or established needs to maintain a competitive web presence. Hiring the personnel to do the necessary marketing, branding, search engine optimization, and press releases in addition to maintaining payroll and benefits access for employees, while still providing the cutting edge technology to make mobile and e-commerce websites and transactions smooth and efficient is beyond the reach of many businesses. However, this business team up provides the perfect pairing to help grow any small or large scale business to the scope that they wish. Innovative solutions and the newest technology along with access to cash credit can enable a business to soar above their competitors.