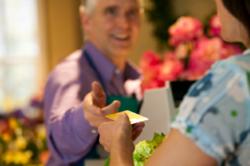 Mobile processing is the latest movement in payment options. Merchant Data Systems is right on top of the trend with partner programs and service packages to meet the needs of business owners both large and small.
Honolulu, HI (PRWEB) March 08, 2013
The team up between Merchant Data Systems and Karma Snack has brightened the world of merchant services and merchant processing services significantly for those in the floral industries. Because of the team up and MDS' continued commitment to expansion and innovative service packages, florists around the country are being invited to check out what MDS has to offer. The expansion promises to offer florists in this sector a slew of services and merchant processing opportunities that will truly revolutionize the way small businesses operate.
The world of the floral industry has been expanded in recent years due to the advent of the internet and e-commerce. In fact, a good portion of floral sales happen through e-commerce sites. The busy and hectic lives of shoppers have plugged them into the internet in an attempt to get everything done in one single day. The professionals at Merchant Data Systems are aware of this fact and have worked tirelessly to develop packages that meet the needs of the growing and expansive floral industry.
The floral industry relies heavily on marketing to keep a float in the competitive and expansive field. The advent of the internet has been both a savior and a curse to the floral market. For those who got involved in the online sector early, the move towards shopping online boosted sales. Those who have yet to get on board with the changing times have found sales dropping, but floral sales are actually up in recent years. Simply put, MDS has a desire to help businesses find their niche in the changing economic landscape. The service packages offered by the company do just that.
MDS has also taken a hard look at its online shopping cart service, mobile payment options and other online sectors to tailor a package of merchant services that meet the needs of the growing and changing flower market. Through a team up with Karma Snack, MDS is now proud to offer the floral industry even better online options including marketing and POS integration for more efficient and effective sales. Karma Snack has been a leader in the online sector for years. The professionals of the company have combined decades of experience working in online marketing. With their marketing chops and MDS' revolutionary and innovative online merchant options the floral industry is in for a massive revitalization.
MDS' team up has allowed merchants to look at their available options and move forward with plans. Funding is never a problem for MDS as the company can help any merchant find funding through merchant cash advances and other services. MDS is a true, one-stop shop for business needs. In fact, the company, from its inception, was designed to provide business owners with every tool they needed to become truly successful. They have succeeded beyond the wildest of expectations.
MDS was born from a need and desire to help small businesses succeed. In recent years, it has become apparent that the world is quickly, and without fail moving towards credit card purchases. E-commerce and online merchant applications have only helped to further drum up the use of credit cards. In decades past, credit cards were used for emergency purchases or large, expensive items. Today credit cards are used for everything from flower, to haircuts, to a stop at the gas station. MDS saw that credit card processing was going to be a necessity for small businesses long before the advent of plastic came into existence. Credit card needs have expanded further and the company has answered the call. Mobile credit card processing services are also offered to help businesses expand. With a dedicated team of professionals, the company began providing businesses with the opportunity to accept credit cards through the use of credit card terminals and credit card machines. The professionals with MDS saw the light before it came into perfect focus and created a line of business services that all center around the notion of making businesses more profitable and efficient. Adelard Gasana, Co-Founder of Karma Snack and partner with MDS mentions, "Mobile processing is the latest movement in payment options. Merchant Data Systems is right on top of the trend with partner programs and service packages to meet the needs of business owners both large and small."
Today, MDS is looking towards the future again and expanding its horizons to meet the ever changing needs of new and different retail markets. Aside from online marketing and storefront services, MDS is also proud to offer all other back end business services as well including POS integration, payroll solutions and invoicing solutions. It is MDS' goal to offer every small business the chance to succeed beyond its wildest dreams through a bevy of merchant packages.
Every business deserves the chance to move to the next level and to follow through with their business plans. Merchant Data Systems is in the market of making those dreams a reality through expansive services and their focus is now moving into the floral sector; a region of the retail sector that has long been neglected by businesses offering business services to small business owners.