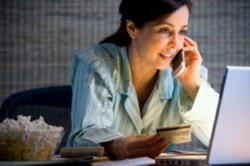 Wireless processing is a technology that helps businesses expand and grow their payment options to meet the needs of an ever-demanding retail sector.
Indianapolis, IN (PRWEB) March 14, 2013
The ability to accept credit cards is imperative when running any type of business, especially a company in the health field. Those that are in the medical, dental or ophthalmic field know the importance of being able to service their customers by accepting credit cards. Since health care is usually dealing with larger amounts of money, customers don't have that kind of cash on hand; rather they use their credit and debit cards for payment. Merchant Data Systems, through a team up with Karma Snack, is reaching out to medical businesses from hospitals to those who companies who sell medical equipment & supplies. They are providing merchant services, including the use of credit card terminals. While providing credit card machines is just the start of what they do, having an ally like Merchant Data Systems on board with a business is advantageous.
They are known as one of the largest credit card processing companies in the country. They have an outstanding history and an excellent reputation for being able to help fellow merchants. Not only is it their outstanding customer service, but their ability to provide additional and much needed services to companies. One such service is a merchant cash advance. There is not one business that has not experienced some times where revenue is not coming in like it should. During the holidays, or other slow times during the year, a merchant cash advance can give the extra cash that is needed. How can a MDS afford to give merchants a cash advance? It is easy; they combine the past revenues and average them to come up with an amount that they are willing to lend through their FAST CASH program. Payback could not be easier; money is taken from future credit card transactions to pay back the debt. This fabulous service allows the business to not fear the times when money is not abundant, but know there is help and relief during these times.
There are often times when it is necessary to process credit cards from a remote location. Mobile credit card processing allows those in the health field to process donations, sales or any other type of payment from anywhere there is internet access. It can all be done using a cellular phone. The cell phone has to be a smartphone and be able to communicate using HTML 5. The mobile payment prevents the need for bulky credit card machines in a makeshift business location. By simply hooking a swiper to the smartphone, a credit card can be scanned and the money transferred from the customer's account to the business. It is completely safe and the same security that is used in regular credit card transactions also applies. There is no risk to the customer or the cell phone owner, as all credit card numbers are not stored after any transaction. Adelard Gasana, Co-Founder of Karma Snack and partner with MDS mentions, "Wireless processing is a technology that helps businesses expand and grow their payment options to meet the needs of an ever-demanding retail sector."
The online merchant will appreciate the merchant processing options that Merchant Data Systems can provide. Having a strong online presence is what separates most companies from the rest. Customers and people who are buying health supplies or other items want a clearly defined shopping cart and an e-commerce system that is set up to be easy to maneuver. Not only can MDS gives support on building the best e-commerce system, but they can offer the tool necessary to monitor and maintain an online site. Need new equipment for POS integration or other business technological needs? MDS offers financing or leasing options so that every company can have the right equipment to make their company function.
They offer payroll solutions, electronic check processing and so much more. What makes Merchant Data Systems stand out from other processing companies? They have almost two decades of experience in this field. They started out as a profitable company and have maintained steady growth. They are located in sunny Miami Beach, Florida and have a customer service staff that is available 24 hours a day, 7 days a week and 365 days out of the year. They never close so that when a company is having an issue and needs assistance, their knowledgeable staff is ready to come to the rescue. They started their company with the goal of helping the merchants be successful and staying ahead of the technological advances to provide the best customer experience and services to their merchants.
Sure there are lots of credit card processing companies out there, but there are few that give the level of service to their customers that Merchant Data Systems does. They offer competitive rates on credit card processing, offer invoicing solutions and give each business a chance for true success. Armed with the right equipment and information, a business that allows MDS to help and guide them will have a fighting chance at being a successful company.