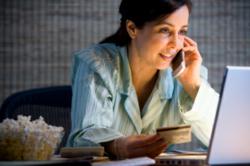 Jefferson City (PRWEB) June 26, 2012
In today's highly technical society, it is crucial for a merchant to be equipped with the most up-to-date form of merchant account in order to take payments from their customers. While standard credit card machines are found in most places of business today, there are now other options available that have innovated the way credit card payments can be taken.
Merchant Data Systems is a leader among credit card processing companies, and they are currently expanding their services in the Missouri area. With the expansion, Missouri merchants will be offering new ways to accept credit cards above and beyond their current method.
In the global market merchants now must compete in, it is crucial for them to have a reliable online merchant account in which to take payment for their online sales. The internet has made it easier than ever to make a profit; business owners can procure payments while they sleep as customers the world over purchase their products and services.
For those who have not yet obtained their eCommerce solution, hundreds of dollars are being lost to the thousands of online competitors who have taken this crucial step. While a website is the first step toward creating the presence necessary to compete in this new, expansive market, the efforts necessary to drive traffic are futile when the customer who lands on the website have to call in or come to a physical location to make a purchase. Online shoppers want to make a purchase instantly and in the comfort of their home, and they will likely move on to a website that will take their credit card payment online.
Missouri merchant services are in many ways more extensive than they were just a decade ago. Another new innovation is the ability to accept credit card payments at locations other than the physical store front through a mobile credit card processing terminal. These devices are small and lightweight enough to easily transport to the job site and can come in handy in many situations. For example, Missouri merchants attending a trade show to promote their products and services can take payments on site. Another example would be a delivery driver who needs to accept a credit card.
An even more convenient way that credit cards can be accepted for the on the go business owner that Merchant Data Systems can make available is with a smartphone. By setting up the terminal through the cell phone, the merchant is able to quickly take a credit card payment by pushing a few buttons. This eliminates the need to carry the mobile terminal.
With the expansive competition that has come with the advent of the internet, merchants in Missouri now require a whole new level of promotion to drive more of the traffic their way, and they need a creative way to procure the business they deserve. Merchant Data Systems can help in this area of business as well. They offer gift card and loyalty programs that encourage repeat business; when customers know they can earn points and prizes for shopping with a particular merchant, they will often choose to do so without even considering the competition.
While the majority of Missouri consumers have made the transition into a largely cashless society with ease, there are still some who prefer more traditional methods of payment such as the use of checks. Unfortunately, a growing number of merchants are no longer accepting checks, because there is always the chance that there are not enough funds to support the payment. In this event, the merchant has to fight tooth and nail to receive the money that's rightfully theirs.
Merchant Data Systems recognized this dilemma, and they provide the solution that works for both the consumer and merchant. Through the use of their electronic check processors, merchants are able to use the account and routing numbers on the check to process the check instantly. The funds are immediately taken from the checking account in much the same way they would be using a debit card. The merchant is assured their payment, and the consumer is happy.
Some businesses have not yet implemented any type of credit card merchant account and only accept cash and checks. While they may wish to keep things the way they have been for years, the truth is that society is not doing the same. If a customer comes in to make a purchase and they only have a credit card, chances are slim that they will go to an ATM machine and pay any necessary fees to withdraw the money necessary to complete the transaction. They are more prone to simply take their business elsewhere.
Merchant Data Systems is aware of the desire to keep things simple, and they can guide merchants who are hesitant to make the transition to credit card use. With a variety of forms available, they can walk the merchant through their options and help them choose the payment gateway that best fits their needs. Furthermore, they can help the merchant understand how to use the new technology.
Whether Missouri merchants have not yet added credit card capability to their establishment or are interested in advancing the capabilities of their current credit card merchant account, Merchant Data Systems can help. As they begin expanding their services in the area, they strive to help each merchant that calls on their services in an advanced way few others are able to offer.