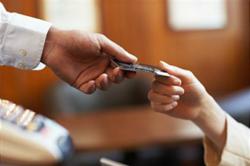 Merchant Data Systems has been an industry leader in credit card processing services for decades, now. The company has long focused on creating a client-centric formula that makes every, single client feel important.
Tucson, AZ (PRWEB) March 25, 2013
Everyone uses credit cards to pay for transactions these days; it is simply safer and more convenient than carrying cash. Buying uniforms and commercial clothing can be costly and credit cards are often used to pay for such purchases. When looking for clothes for men, women and children, its takes a great deal of money and most prefer plastic methods of payments. Merchant Data Systems is like no other by providing new merchant processing so that retail clothing stores can process credit and debit cards. While having credit card terminals is important, it is the company behind the terminals and the ability to accept credit cards that is so important. Making the selection for a merchant services provider is not easy, there is so many to choose from. The first thing that a company should look at is the processing costs. Each transaction has a fee associated with it. Making sure to pay an average range for this type of transaction is important, and can be a cost savings choice.
Their effort to be the biggest and best processing company has not gone unnoticed. When MDS started the company nearly two decades ago, they knew they had tapped into a great market. Being profitable from nearly the beginning, they made wise decisions and learned what worked for business and what didn't. Sharing their knowledge with others is one of their trademarks, and they are known to be helpful in many areas of business, not just electronic processing.
MDS is located in beautiful Miami Beach, Florida. They fully train their customer service staff to be able to address all of their customers' needs. Because of their dedication to their company and those they service, they keep their phone lines open 365 days a year, 24 hours a day. Those who experience an interruption of service or a problem with a credit card terminal at 3 am can call and get the service they need. Drew Freeman, President at Merchant Data Systems, mentions, "Merchant Data Systems has been an industry leader in credit card processing services for decades, now. The company has long focused on creating a client-centric formula that makes every, single client feel important."
Any company that is serious about sales knows that an online presence is necessary. The online merchant needs to have a spectacular website that has appeal and can service their customers even when a clerk can't. E-commerce is a big market and those businesses who want to see a spike in revenues must have a website. From key features like the shopping cart, for easy check-out, to the arrangement of items available, the online site must have perfect presentation. Don't correctly, a website can be a large source of income and in some cases may do better than a retail store.
One of the latest adventures that Merchant Data Systems has ventured into is mobile credit card processing. How convenient is it to be able to process credit cards from anywhere at any time. All it takes is a smartphone that has the capability to communicate with a swiper that is installed on the phone. It is not always possible to have a credit card machine when it is needed. What if a credit card machine were to malfunction? Having a backup plan allows electronic payments to still be accepted even when mechanical failure is an issue. Going to the county fair or another event around the state is a great way to boost revenue. Why not accept credit cards from a booth at the fair? Using mobile payments, it is possible.
While MDS excels at credit card processing, they have other services to offer their customers. FAST CASH is a merchant cash advance program that gives customers a loan in times of need. Not every company will qualify for a bank loan and this can be a real problem. What if one week there is not enough money for payroll and payroll solutions are needed right away? MDS will loan money to their customer based on their volume of sales. The money can easily be repaid in a matter of time with future transactions.
Credit card machines and invoicing solutions are a big part of the day to day operations at MDS. What about leasing equipment or equipment financing? POS integration is something that every company should have, it just makes good business sense. Pulling those nightly financial statements couldn't be easier when everything is linked together. Some are tossing out old credit card terminals and opting for registers with swipers on the side. MDS can help a company to have the right equipment and to ensure they have what they need for success.